Of all the worthless ways to spend time on Twitter, few are as pointless as when I engage the site's search function and seek out people who believe there are basketball players who were, or now are, better passers than Earvin "Magic" Johnson. Whenever Lebron James pulls off a fancy assist someone claims he's a better passer than Magic. Not surprisingly some say Pistol Pete Maravich was a superior disher. Jason Williams fans still champion their king of the elbow pass. Even Ben Simmons supporters believe that one day, the former LSU product will prove superior to Magic as a passer.
On some level, I understand it's senseless to get upset or annoyed over any of these opinions from strangers. And yet, each time I torture myself by searching out these beliefs I want to no-look-pass my computer across the living room.
There's never been a better passer than Magic Johnson. Not LeBron, not Pistol, not White Chocolate, not John Stockton, not Larry Bird, not Chris Paul, not Bob Cousy, not Steve Nash, not Jason Kidd, not anyone. It's ultimately all subjective, of course, but in the same way a consensus has formed around the idea Stephen Curry is the greatest shooter of all-time — despite that being an equally abstract title — any list about the best passer in the game's history should always start with Magic.
What does greatest mean in this context? Begin with the numbers: Magic remains the career assists-per-game leader with 11.19. Same deal for the playoffs, where he averaged 12.35 per game. In the NBA Finals, since assists became an official stat, no one has ever averaged 12 assists per game in a single series — except for Magic, who did that six times. But career totals and averages and numbers only tell part of the tale.
Magic's versatility as a passer separates him from all others. His 6-foot-9 height allowed him to see over defenders and create passing lanes that only he had access to, an advantage unknown to the smaller great guards like Stockton, Nash or Cousy. That size also gave him an edge in the post, as he could direct the entire offense from the block (Magic's probably the best post passer in the game's history too, with apologies to the injury-plagued career of Bill Walton). Magic's basketball IQ allowed him to anticipate plays seconds before anyone else realized the possibilities. He fooled defenders with his mind the same way he did with his artistry. Bird occasionally pulled off the same dazzling displays but was inferior to Magic in the middle of the fast break. As is LeBron. As was everyone. Magic expertly executed every pass, from bounce passes that traveled half the court to baseball ones that went from one end to the other. The most famous image of Magic is him with the ball in the middle of the break, but he was equally effective in the half court, whether hopping with a right-handed dribble before firing a bullet through defenders to James Worthy on the opposite block or kicking out to the perimeter after a drive or post-up. Another aspect of Magic's greatness? So many of his assists, whether at the end of a 3-on-2 fast break or off of a set play, led to a layup or dunk. Not all assists are created equal, especially in today's game, where so many assists result from 3-pointers and the shooter handles the majority of the work. Magic's dishes put his teammates in a position where failure was impossible; Dyan Cannon, Jack Nicholson and the other celebs on the front row at The Forum could have finished off some of the plays Magic set up.
No one ever imposed their will with their passing like Magic. Not even his fellow legends. Bill Russell dominated with defense. Wilt, Kareem and Jordan with their scoring. Even all-around masters like LeBron and Bird controlled games more by putting the ball in the basket, not by setting up others. Since 1972, Magic's the only player to lead the league in assists per game and win a title in the same season. (Going one step further, also since 1972, Magic's the only player to even finish runner-up in assists per game and win a title in the same year, which he did three times).
His passing created Showtime, which started when he arrived in LA in 1979 and ended when he retired for the first time in 1991. Magic once said, "Showtime was coming down on the fast break, looking left — and throwing right." Yes, Showtime was also James Worthy filling the lane on the fast break, Pat Riley's hair and suits, Nicholson smiling courtside, Michael Cooper's defense, Chick Hearn on the mic, Jamaal Wilkes's silkiness, Kurt Rambis's glasses, Byron Scott's pull-up J, Dr. Jerry Buss's coolness, Bob McAdoo's jumper, Norm Nixon's quickness, Randy Newman belting out, "I Love LA," the Laker Girls and, when all else failed, the ultimate weapon: Kareem Abdul-Jabbar's sky hook. But Magic was always the driving force, the man in the middle of the break, the player whose charisma, leadership and passing abilities set everything up. Magic was Showtime. Showtime helped save the NBA in the 1980s. And Showtime led to nine Finals appearances in 12 years and five NBA titles. That's Magic's unmatched legacy as a passer.
Some people occasionally knock Magic's playmaking abilities or even his accomplishments because of the talent around him. At the start he played with a prime Kareem and Jamaal Wilkes. Later he had Worthy and others. Of course he racked up assists, the thinking goes. Who wouldn't? But consider this: From 1987-91, Magic played with one all-NBA teammate, James Worthy, who made the third team in 1990 and 1991. Yet during that time Magic and the Lakers made four Finals appearances and won two titles. Those were not rosters littered with legends. Magic did make everyone on the court better, no matter if their career ended as a journeyman or in the Hall of Fame. In Game 5 of the 1991 Finals, when Jordan and the young, hungry Bulls finished off the Lakers for their first title, the Lakers battled without the injured Worthy and Scott. The players on the court with Magic that night? A.C. Green, Sam Perkins, Vlade Divac, Terry Teagle, and rookies Tony Smith and Elden Campbell. And yet Magic still dished out 20 assists, in the final game before his first retirement.
In the years since his playing days ended for the first time, Magic has been a television analyst, short-term talk show host, shorter-term coach, basketball owner, baseball owner, studio host, tweeter and entrepreneur. This past February he returned to where his NBA career started, taking over as President of Basketball Operations for a beleaguered Lakers franchise. No one knows how this new story will end. But nothing that's come after his playing days concluded detracts from what he did while wearing the purple and gold.
It's been 30 years since Magic won his first MVP and 21 years since he last played in the NBA. With the passing years, it's easy for fans to forget the greatest skill of one of the game's greatest players, to diminish the sense of wonder that came with watching his no-look passes, over-the-head assists and sleight of hand. Consider this a helpful reminder, and a tribute.
But to fully appreciate Magic and his passing abilities, it's worth venturing back to a time when he was still known only as Earvin.
WHEN EARVIN BECAME MAGIC
Even though Magic, according to so many announcers who watched him in wonder over the years, was seemingly born with eyes on the back of his head, he did have to learn about the importance of passing as a kid. In 1991, as he prepared to pass Oscar Robertson's record for most career assists, Magic spoke about growing up in Lansing, Mich., and watching games with his dad, Earvin Sr. Magic said, "As a kid you would always think about the guy scoring. You'd say, 'Oh, he got 30.' And my dad would say, 'Whoa, whoa, whoa. He got 30 for a reason. Someone got him the ball. And that's what happened … I worried about passing instead."
By the time he became a teenage basketball prodigy in Lansing, the skills that one day awed the world wowed his future high school coach. George Fox manned the sidelines when Magic led Everett High School to a state championship in Magic's senior year in 1977. But several years earlier, Fox laid eyes on his future star, who had already earned a reputation throughout the city. "I'd heard so much about him from his older brothers at school," Fox tells me. "He was about 6-3 in the eighth grade, big, tall skinny kid with a big Afro." Fox watched a junior high game and "was so disappointed — not in his ability, but in his approach to the game." Magic played on the perimeter and Fox told his assistant Magic "has gotta learn how to play in the post. But I could see that he had great basketball skills."
A few years later, Earvin, now a star at Everett and already the tallest point guard anyone had seen at any level, officially became Magic, when Michigan sportswriter Fred Stabley famously gave him the nickname no one thought would last while watching him dominate in a high school game.
Very little video footage exists from Magic's Everett days, but a few years ago a YouTube user put up highlights from the 1977 state championship game when Magic led Everett to an overtime victory. Even in these brief highlights, you can see many of Magic's unique passing skills, including his ability to catch a pass and a second later fire the ball to an open player under the basket.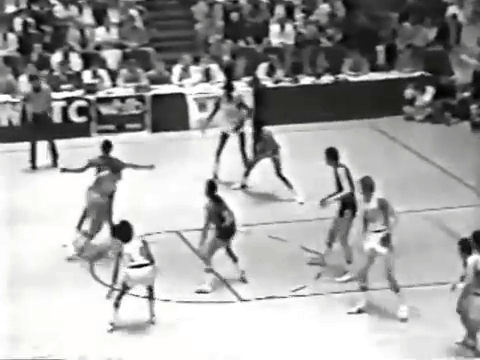 "He focused on where the person was before he even got the ball," Fox says. "That's why he could get rid of it so quick. He caught it and just flicked it to an open guy. He never had to wind up. It's all wrists." Fox says he put his players through various passing drills — including working on full-court baseball passes that wouldn't curve — that sharpened those innate skills Magic possessed, but "he was a natural. What he could do masterfully, if you gave him the ball at half court, he would take it inside the key area and he would make sure he'd attack the basket and get somebody the layup. He would draw the people, look the other way and dish someone a nice bounce pass or a high lob. We worked on that. I didn't teach him that but I helped him get better. But he had it naturally without my help."
Following his senior season, Magic went out to the McDonald's All-American game in Washington, D.C., the annual gathering of the nation's top prep players. Future NBA players Albert King, Jeff Ruland, Gene Banks and Darnell Valentine joined Magic on the rosters. Fox attended the practices with his phenom, and several of the players couldn't adapt to playing with their unselfish teammate who saw everything. "He'd dump it down to their guys and they'd fumble it or wouldn't even be looking." Magic said, "Those guys can't handle my passes." Fox told him to "be a little patient, and once they realize if you get the ball, they're going to get it back, they'll be ready. They aren't used to playing with a guy like that at this level, who, the first thing he does when he catches it is to look for an open guy."
Magic stayed home for college, attending Michigan State University, which had recently hired Jud Heathcote. Michigan State had experienced little success on the court in the years prior to Magic's arrival. In 1976, Heathcote's first season, the Spartans went 12-15, and Michigan State's last 20-win season had come in 1920. With Magic the Spartans went 25-5 his freshman season and 26-6 in the title-winning sophomore campaign. Before Magic played a game for Michigan State, Fox told Heathcote, "Jud, you might have the best ball-handling point guards in the country, but let me tell you something: When you fast break, make sure when you get to half court, Magic has got the ball."
In recruiting Magic, Heathcote tells me he convinced his star "he would be a guard in our program. That's what he wanted to hear. He wanted to be the guy with the ball, running the show." Heathcote still calls Magic the greatest practice player he ever coached, and the amazing passes he broke out during the game weren't a surprise to teammates because he did similar crazy things in practice. The same held true in pickup games, where Magic, Heathcote remembers, would take "four ragamuffin guys and win. He just had a knack to make ordinary players better than they were and he did that in the two years he was with us."
The Spartans had role players and two superstars, Magic and Greg Kelser. The two perfected their alley-oop connection, Magic passing, Kelser flying through the air and dunking. In 1979, Magic and Kelser led Michigan State to the Midwest Region title game against top-seeded Notre Dame. The Irish roster included future NBA players Kelly Tripucka, Bill Hanzlik, Bill Laimbeer and Orlando Woolridge. Three seconds into the game, Magic had already delivered the back-breaking pass that sparked Michigan State to an easy 80-68 victory. Yes, three seconds.
On the opening tip, the ball went to Magic, who, with his back to his own basket and only a few feet from the midcourt circle, perfectly tipped a no-look, over-the-head pass to Mike Brkovich for an easy dunk. The Spartans never lost the momentum, and Notre Dame head coach Digger Phelps told Sports Illustrated after the game, "That set the pace for the game. It was an avalanche from there."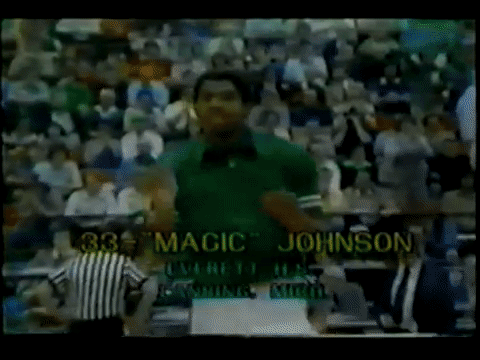 Name another player who's ever decided a game's outcome with the first pass of the game? Heathcote tells the story of a high school coach who he let into practice before the Notre Dame game. "This is maybe a little far-fetched," Heathcote says, "but he's sitting next to a Notre Dame fan in the stands and he says, 'I bet you five bucks that the first play is going to be a dunk by Michigan State.' Because he'd seen us work on that." And he knew Michigan State had Magic.
Kelser scored 34 while Magic went for 19 points and 13 eye-opening assists, toying with the Irish as if it was a pickup game, casually tossing lobs to Kelser, firing the snap-of-the-wrist no-lookers the Everett High School team practiced and, at one memorable moment, executing a no-look drop pass to a streaking Kelser for a dunk. With each incredible pass, the legendary NBC announcing crew of Dick Enberg and Al McGuire got more and more excited at what they witnessed, culminating in Enberg marveling, "I can't believe it!" and McGuire letting loose with a maniacal laugh and yelling, "Playground! Beautiful!"
Imagine today's Twitter world reacting to that opening-tip, to any of these passes pulled off by a 19-year-old genius.
Two games later, Michigan State dusted off Larry Bird and Indiana State in the most famous college game ever, a contest that ended with a pair of half-court passes from Magic to Kelser in the final minute, one over the extended arms of his greatest rival, who couldn't prevent a Magic completion that looked like Terry Bradshaw hitting John Stallworth in stride in the Super Bowl.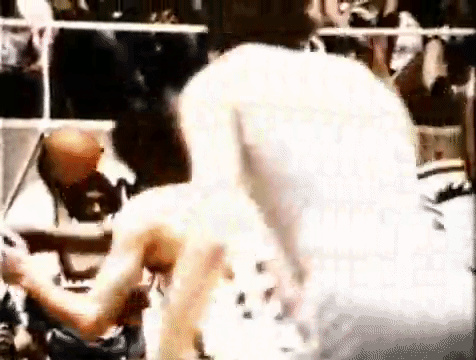 And in the closing seconds, following a final futile Indiana State basket, Magic grabbed the ball out of the net and threw a no-look, over-the-shoulder pass to Kelser for one final rim-rattling finish at the buzzer. It was a bit cocky, and a lot of showmanship, but also the perfect conclusion to the college career of the player whose magical passing turned an also-ran program into national champions.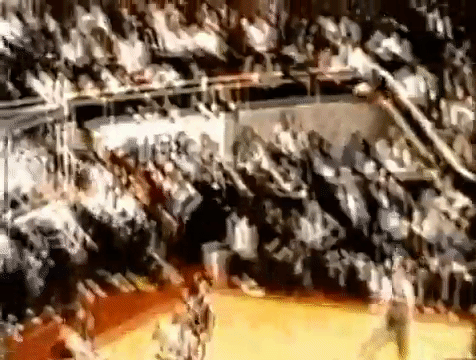 SHOWTIME
Magic came to a Lakers team that had won 47 games the previous season. The franchise had, in many ways, stagnated, even with the great Abdul-Jabbar. Magic enlivened the team and brought a new energy to the Lakers, which became apparent in his very first camp. His longtime teammate Michael Cooper, the wiry defensive wizard who won five titles with Magic in the 1980s, remembers Magic telling people in practice, "Listen, if you cut to the basket and you're in the paint, have your hands ready because I can get it to you. He only needed a small window and he'd hit you in a split second."
Under Jack McKinney, and then Paul Westhead and finally Pat Riley, the Lakers possessed the most devastating fast break in the game's history, with Magic marching down the middle with a bob-and-weave dribble while Worthy, Cooper, McAdoo, Wilkes, Scott, and, occasionally, even the old man himself, Kareem, filled the wings. Cooper says, "It was about the first person to get to that right lane, and the first person to get to the left. We were racing because we knew if you got on the wing, you were going to get the ball. Riles was like, 'Listen, I don't care who gets there, just get there.' That was Showtime."
In 1985, Magic told New York Times columnist Roy S. Johnson, "I get on the break and I just get crazy. That's when I'm at my highest point. My eyes light up, and I feel crazy down to my knees. If there's one or two defenders and I have one guy on my right and one guy on my left, I just go crazy, 'cause I know it's two-points time."
Every Magic pass was a unique creation, from the times he held the ball in his giant right hand and offered it to a player on the left, only to drop it off to a teammate on the other side, to the passes that zipped past defenders' turned heads and would have taken a chunk of their ear off if he'd been a little less accurate. Cooper remembers Magic's passes were "spur of the moment. The things he did in a game were truly things he improvised at that time and moment, nothing he could do in practice."
Magic officially recorded 10,141 assists in the regular season, 2,346 more in the playoffs. Of those 12,487 assists, probably a few thousand, if that, survive in readily available YouTube videos. Thankfully, both for those who watched him in his prime and those who can only watch the highlights, several users have put together outstanding compilations that display Magic's greatness. At the top of the post is a video painstakingly put together by my favorite YouTuber, the incomparable Non-player Zealot, who owns countless old Showtime games on DVD and has put many of them online. A great YouTuber named TheCrunchySopa has a pair of entertaining 15-minute-long compilations. Other users, like Larry Legend, collect some of Magic's greatest performances. Still, only a small percentage of his assists live on in online video. Today's players benefit from *every* play being instantly available. Within seconds of a great pass it's been praised a hundred times on Twitter and the next day will appear on numerous websites with a thorough breakdown of what made the play so special. "Look at that angle! How'd he do that? What vision! What touch!"
But our wonderful, illuminating access to today's greats shouldn't overwhelm the memories of the skills of those who came of age in a different era. This certainly applies to the legends from the NBA's early years — guys like Wilt, Russell, West, Oscar, and Pistol Pete — but it was still even true of stars in the 1980s, a time when NBA video collection remained relatively primitive until the middle of the decade.
So it is with Magic; we can watch in amazement at so many of his plays, but are left to wonder about what we're missing. Longtime NBA writer and author Steve Springer has been one of the great chroniclers of Lakers history, especially of the Showtime era. Springer started as a Lakers beat writer in California in Magic's rookie season of 1979-80 and says the best pass he ever saw Magic make never made it onto film. It happened in October 1980, Magic's second season, in Kansas City against the Kings, in a game that, according to the box score on Basketball Reference, was played in front of a mere 5,753 people. "The game wasn't televised," Springer says. "No home television. Just Chick Hearn on the radio." On the play, there were "three Kansas City players standing diagonal to him, one behind the other. The fourth player was Jamaal Wilkes. He made this pass — I know it didn't happen, but I swear it went through the hands of all three guys and Silk caught it right under the basket and laid it up. He didn't throw it over their heads. If he'd just thrown it over their heads to Jamaal, you've seen that play a million times. He threw it past these guys at eye level. Just an unbelievable pass."
But wholly believable for one player.
Is there any easy explanation for how Magic pulled off some of these passes? Worthy once said, "Magic could take a snapshot of the court, meaning that he could be in an effort to get the rebound, and when the ball hit his hands he just took a quick snapshot and that's all he needed."
In 1989, Magic starred in the video "Put Magic In Your Game," which featured him in the obscenely short Laker shorts in a junior high gymnasium offering instructions on the fundamentals to a group of young players dressed in drab, gray outfits. When it came to passing, Magic did his best to explain what he saw on the court: "You know, when we're born they tell us we only have two eyes. But that's not true. Actually we have about 100 eyes. We've just got to train ourselves to use all those eyes. For instance, say we're coming down the court on a fast break. Now you're looking to see, who's behind you, who's in front of you, who's running fast, who's running slow? Where's the defense, who's free, who's got a shot, who can block that shot, who's open? The passing lanes, the cracks, the seams — you're just moving fast. Now, who's going to see all of that with just two eyes? You've got to train yourself to use everything, to see the whole floor, to use all those eyes."
I can confirm the advice sounded good to young players as I soaked it all in as a 14-year-old in a small town in Minnesota. Watching the video now, the words sound as plausible as Shakespeare making a two-minute video where he explains how to write a play. Certain skills can be honed or practiced or refined, but when it comes to the vision and anticipation that were the hallmarks of Magic's passing, there's no instructor who can teach a human how to be a god. Not even, as it was with Magic's instructional video, when the deity himself provides the lessons. You have to train yourself to use all those eyes. Okay, Magic, that's easy enough.
Springer might have received the most honest explanation from Magic, after a game in New York against the Knicks. That night in Madison Square Garden Magic grabbed a defensive rebound and, with Norm Nixon streaking down the sideline, "throws the ball completely over his head. One bounce, all the way down the court. Norm catches it and scores on the layup." After the game, Springer asked Magic how he knew Nixon was there? "He said, 'I looked over my shoulder and saw him.' I said, 'No you didn't. I looked at the replay three times. You were still staring at the backboard. You did not see him.' He looked at me and smiled and said, 'Well, I guess I saw him in my mind.'"
Like writers who have to know all of the rules before they can break them, Magic's flash was only possible because he perfected the basics. Riley once said Magic "shows up and all of the sudden, the team becomes a champion in one year, in his first year. And I think that had a lot to do with the enthusiasm that he brought to the game, the style of play that he had…which wasn't flamboyant, it was very fundamental….He might have put a little extra swirl on it at the end with his passes, but he was always on the money and for a point."
Yes, that little extra swirl. That swirl is why we know him as Magic, and not just Earvin. The swirl put the show in Showtime. It's impossible for me to make up my own list of Magic's 10 best passes or even 50 best. So instead, using my master's degree in Magicology, obtained through 13 years of watching Magic play and a decade scouring YouTube for the fraction of his assists that have survived online, I'll simply break down some of his best into different categories. Because even though every Magic pass was seemingly a once-in-a-lifetime event, there was actually a pattern to his poetry.
HALF-COURT DISSECTION
"Yeah, Magic was great on the break, but what about when the game slowed down, huh? And what if he played today and couldn't get as many fast-breaks, would he be as dominant as a passer?" So go some of the arguments in the dark corners of the Internet, where I've debated these and other questions with non-believers. And the basic response is, yes, he would be just as great. Because his passing skills when the game slowed down were just as good as when the teams raced up and down the court. There is a common outcome, between these and the fast-break passes: They result in layups. What does the phrase "making teammates better" mean? There's no one definition, but setting them up with passes a foot from the basket certainly qualifies.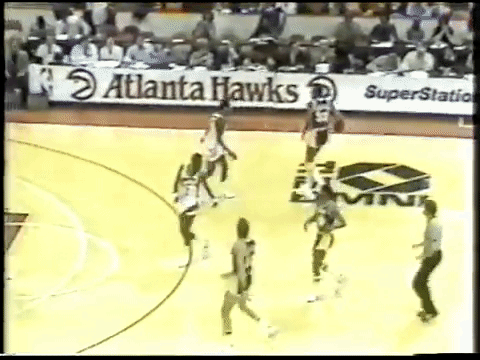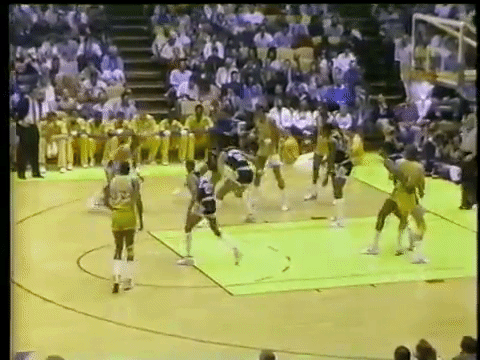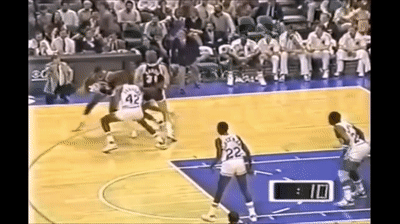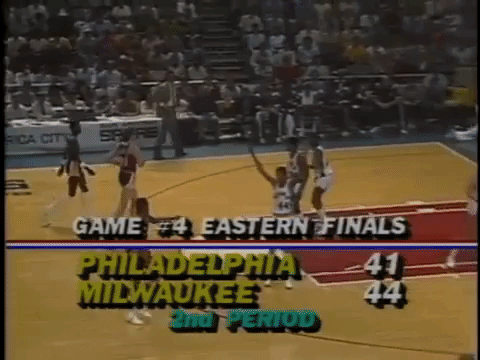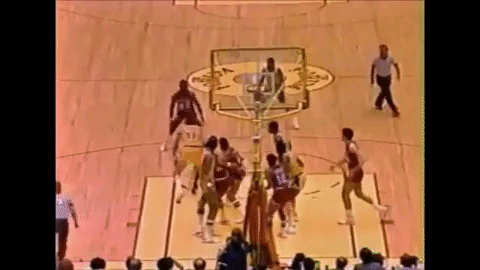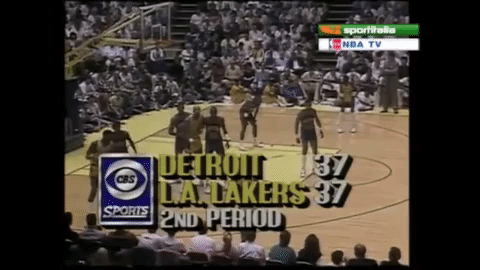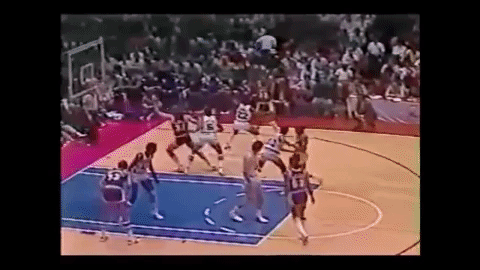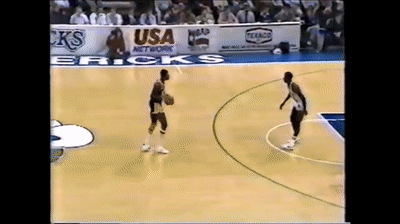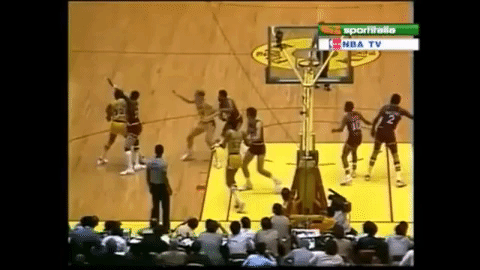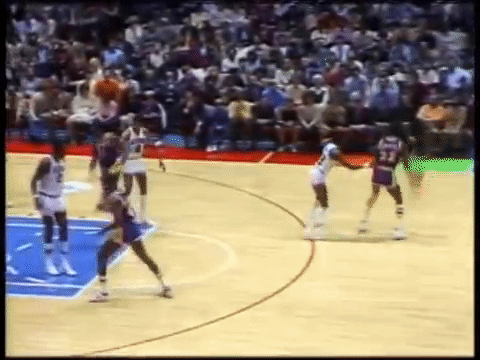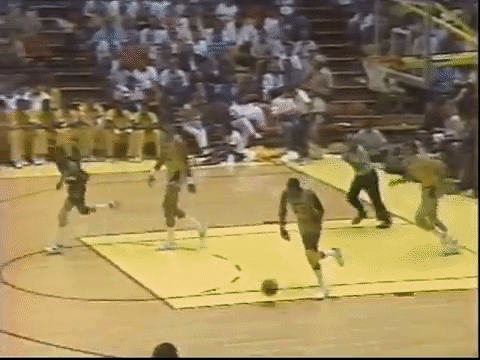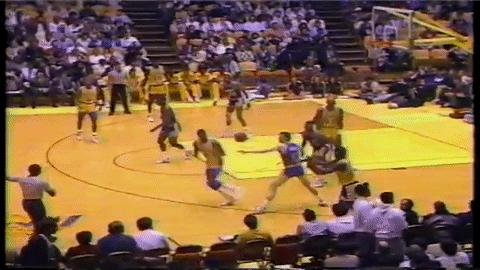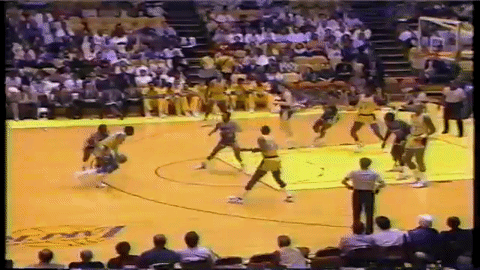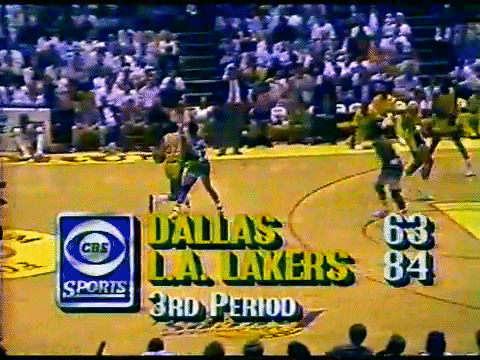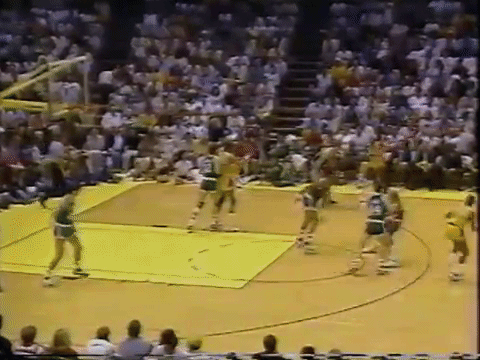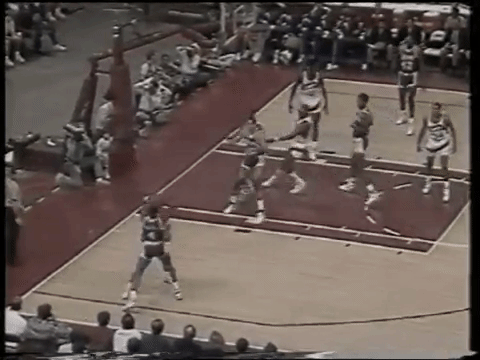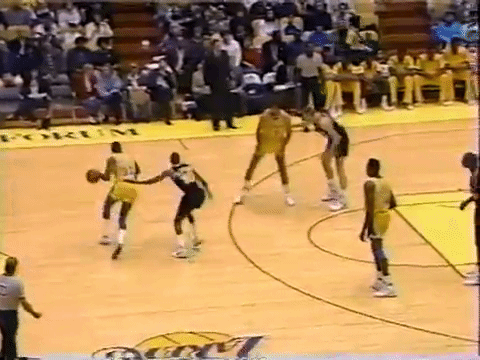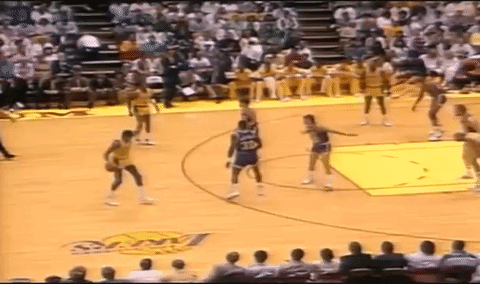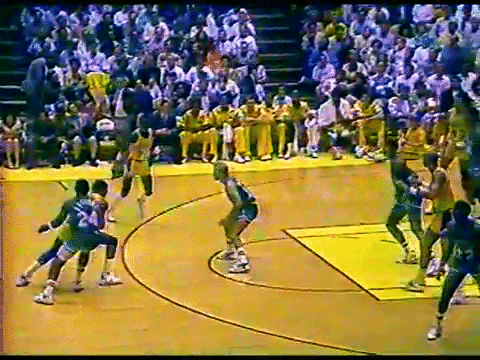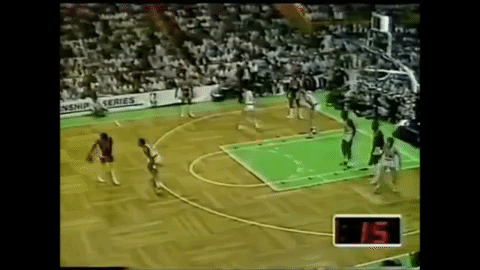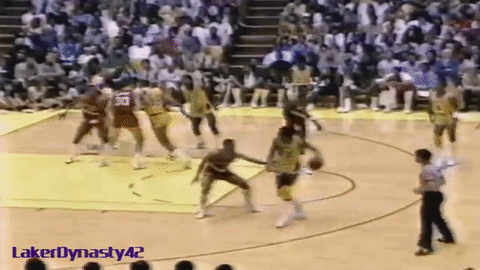 WORTHY RECIPIENT
James Worthy is best known for swooping in to finish off fast breaks, but with his devastating quickness and superb footwork, he was equally potent down low, combining with Kareem and Magic to give the Lakers three brutal scoring threats in the post. But throughout his career, Worthy also benefited from a simple play and a difficult pass. With the defense setting up, Worthy lingered on the low block, usually on the left side, almost hiding from everyone else on the court, an inconspicuous presence, despite his 6-9 height and ever-present goggles. Magic, whether guarded tightly or with his man playing off, came in on the wing and, with the eyes of all the defenders looking his way, fired lasers to Worthy for easy layups. The passes went over mullets and shaved heads before arriving at their destination safely. These are all different plays even if they all look exactly the same.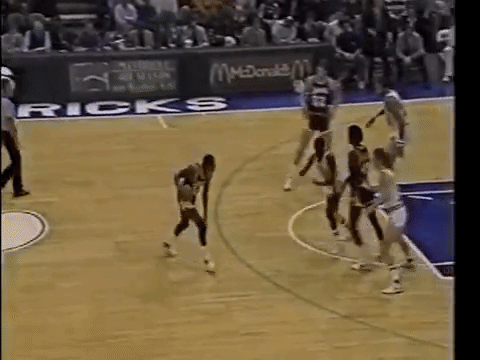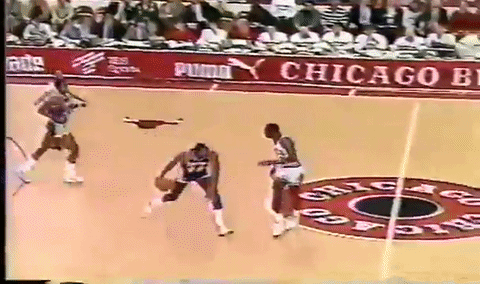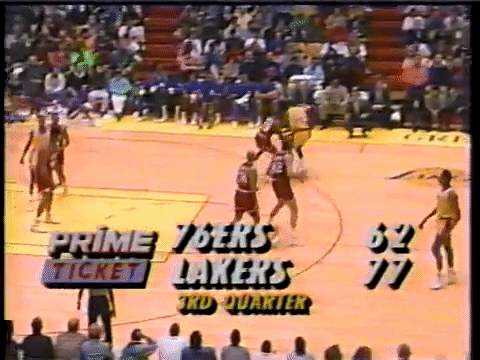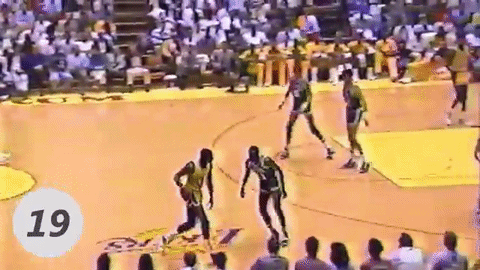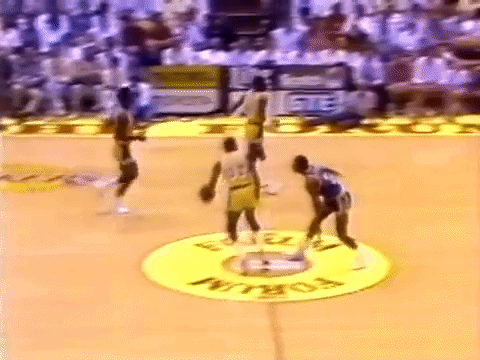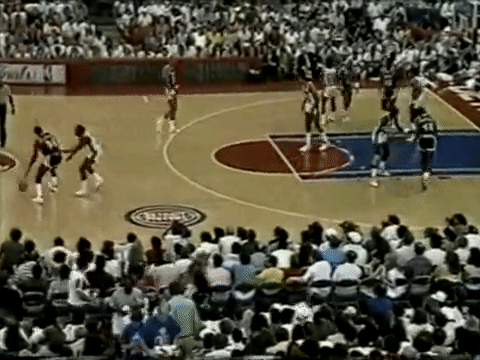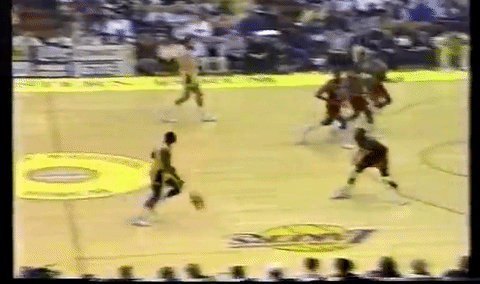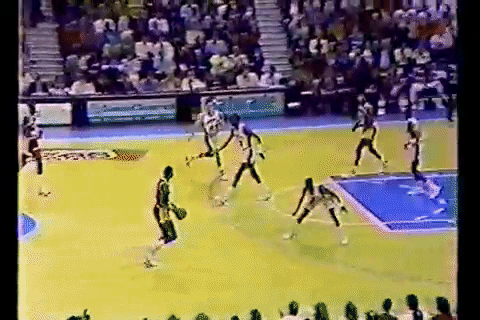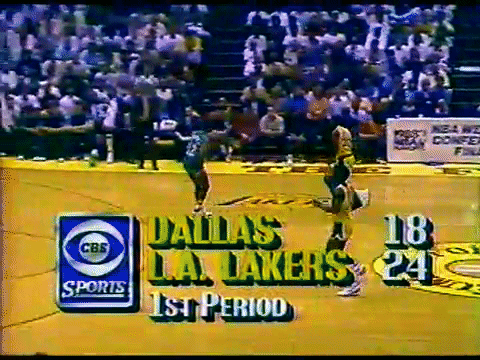 POST PERFECTION
The best-ever on the fast break was equally as dominant when he took up shop on the low block. At 6-9, smaller point guards were helpless if Magic became a scorer, so teams always sent double-teams. Magic made them pay with over-the-head looks or kickouts to open shooters. His ability to score down low made the passing even more dangerous. If teams played him with a single defender, he could bully them to the glass or hit his deadly sky hook. Especially later in his career, when the breaks slowed down, the Lakers loved to plant Magic in the post and let him survey the landscape, wait for a double team and then deliver. Once again, no other player has been this good in the half court setting and on the break, a maestro with a 3-on-2 advantage or when facing a pair of defenders in the paint.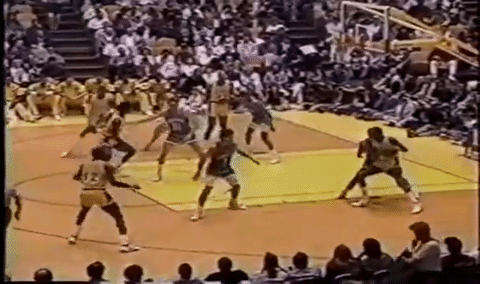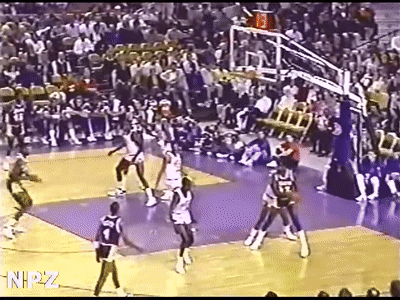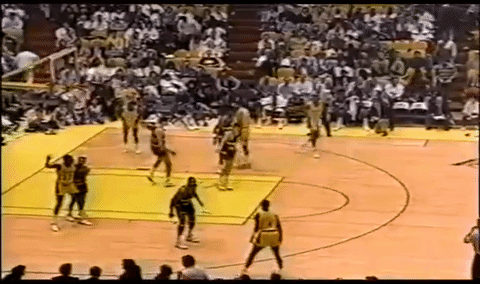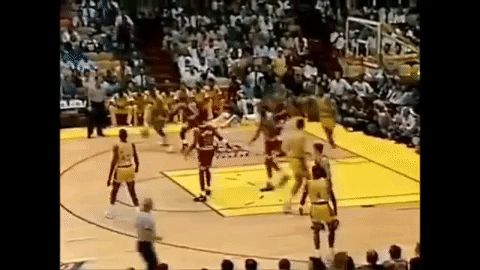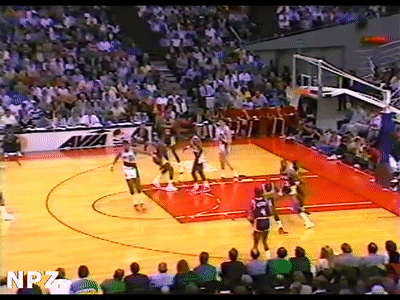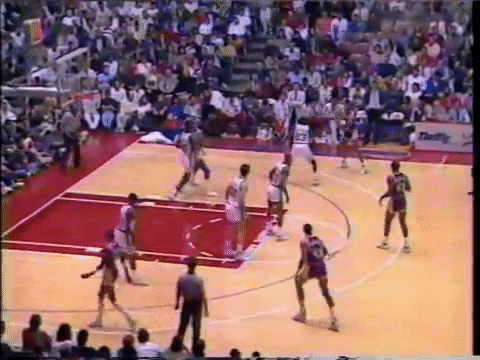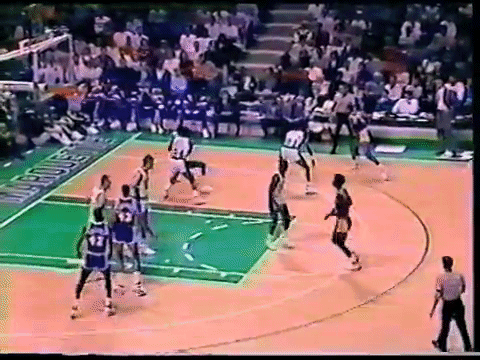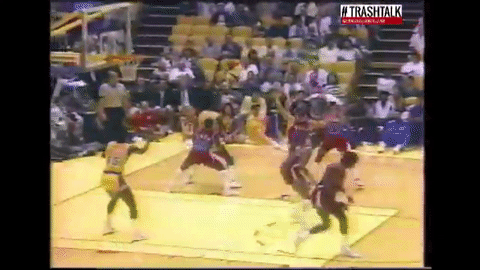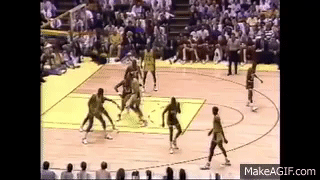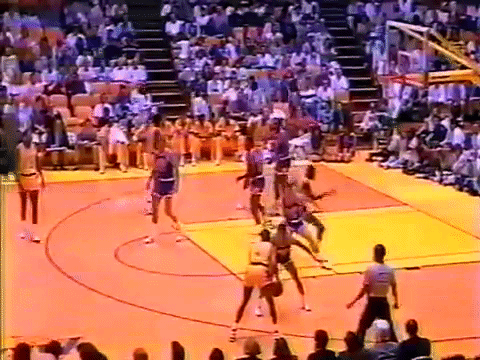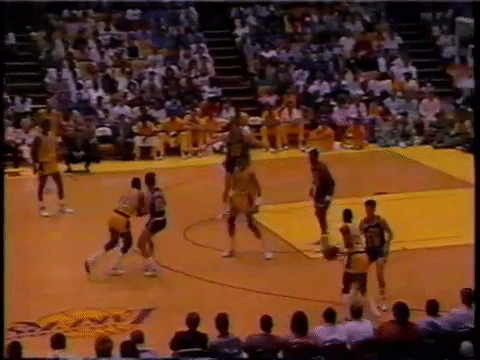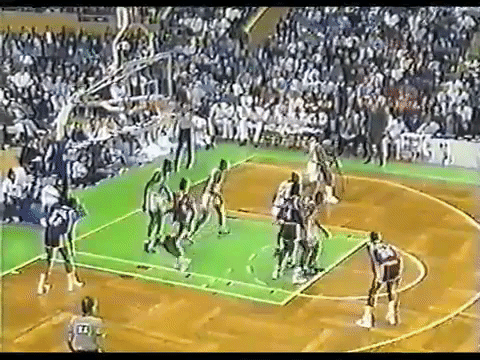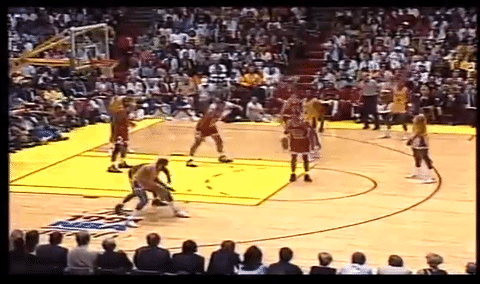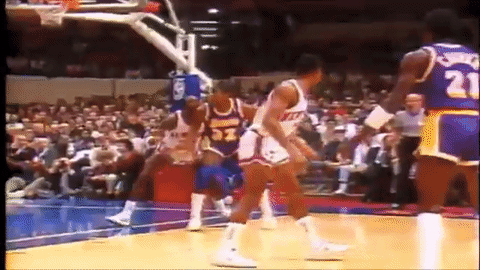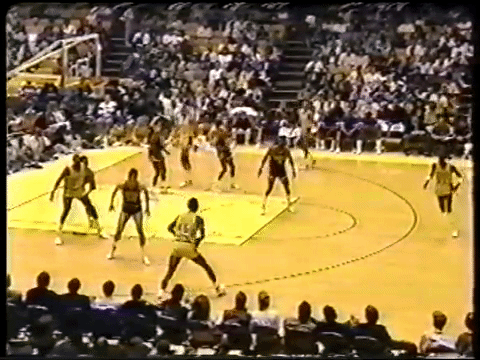 BOUNCING BEAUTIES
Magic's memorable bounce passes are probably my favorite category. He saw an angle that didn't exist to anyone else on the court and threaded the deliveries through kicked legs and outstretched arms. The passes inevitably and perfectly popped up from the court and into the hands of a teammate for an easy two points. Chick Hearn always helpfully diagrammed the assists by putting improbably precise distances to the dishes. "Magic from midcourt, made a 43-foot bounce pass."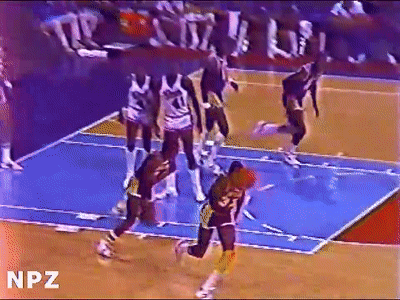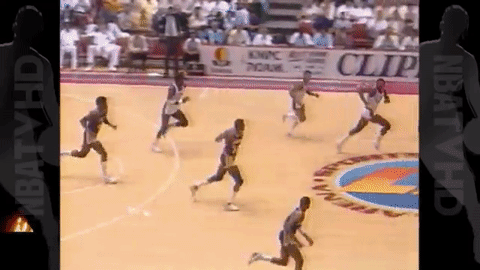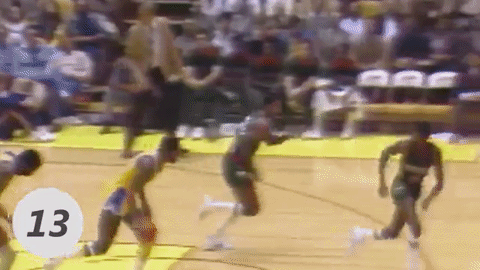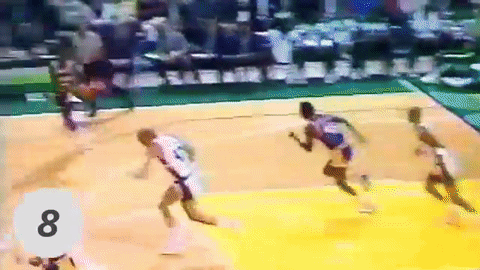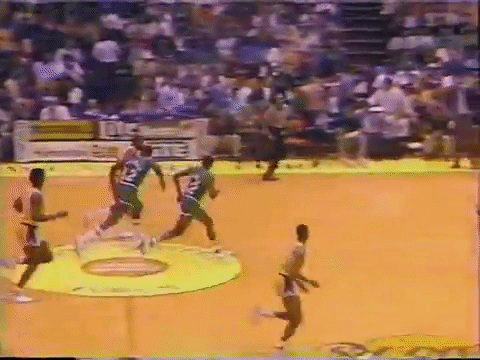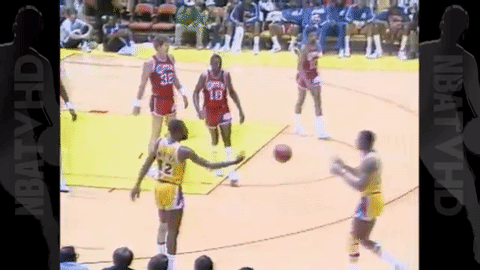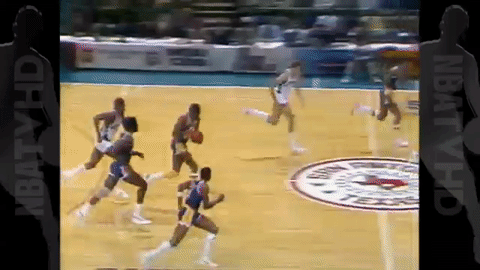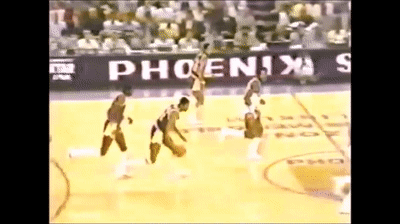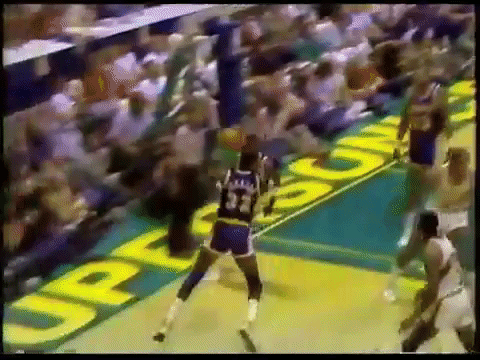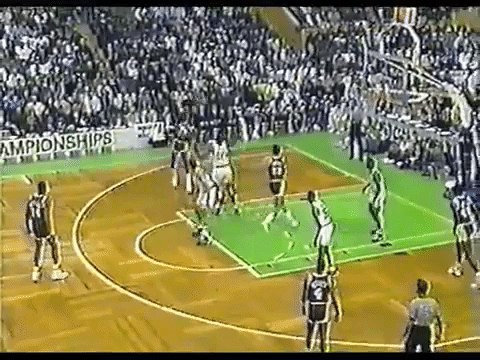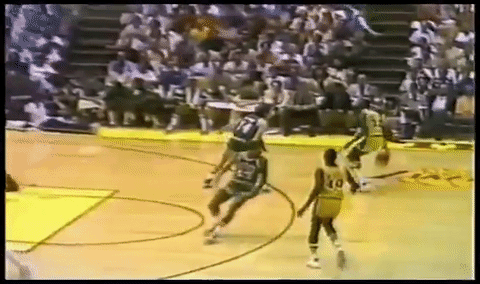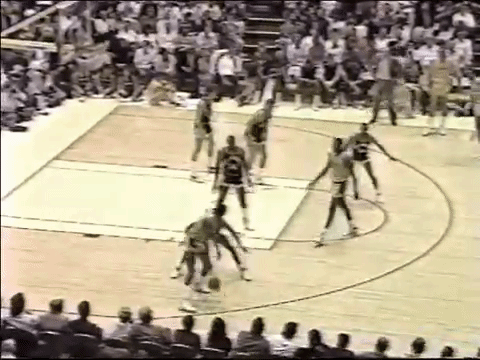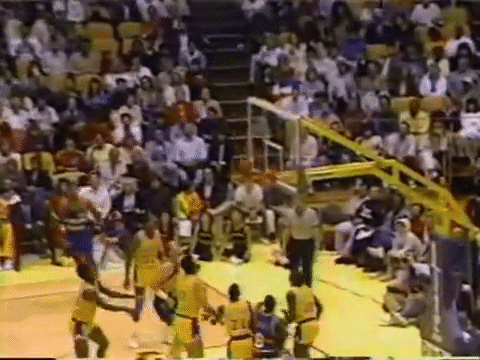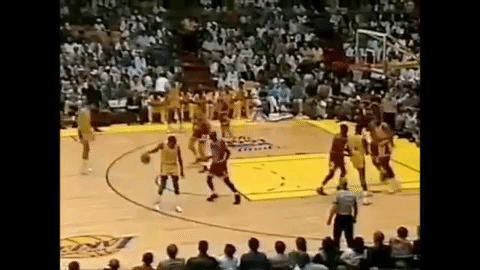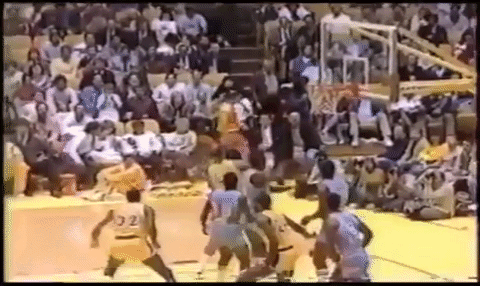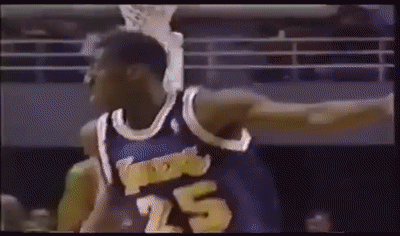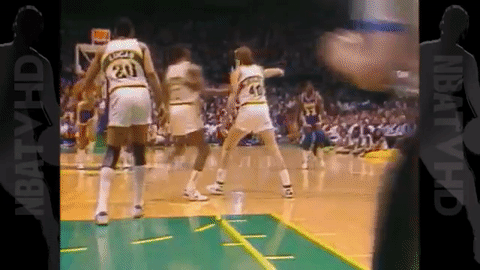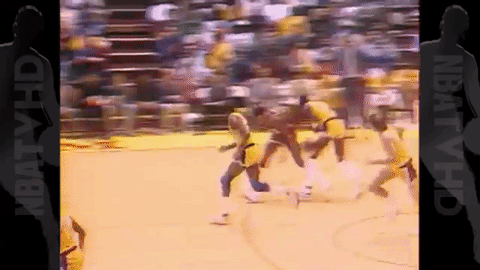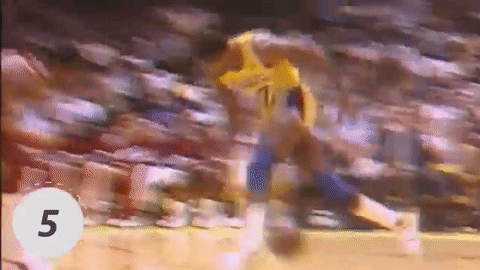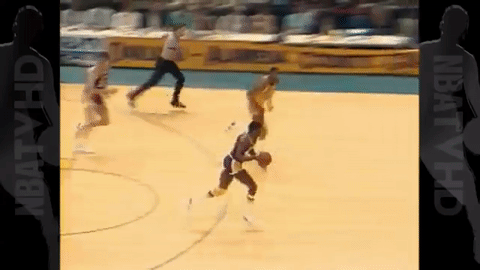 THROW THAT SPEEDBALL BY YOU…
Magic suffered a severe knee injury his second season, recurring groin injuries and famously battled bad hamstrings in the late 1980s. But he never needed rotator cuff surgery, despite delivering numerous fastballs to teammates for more than a decade. They could travel short distances in a mid-court setting or down the entire court if Magic spotted an opening and went for a bomb.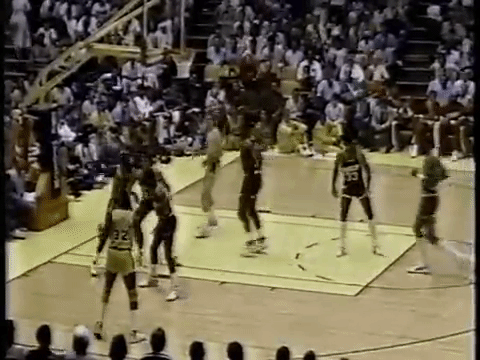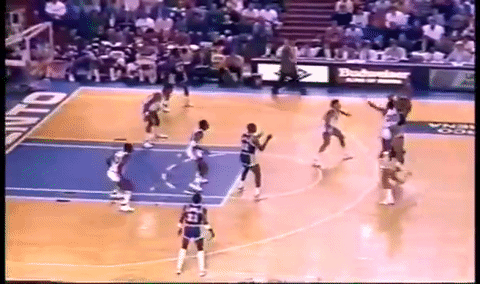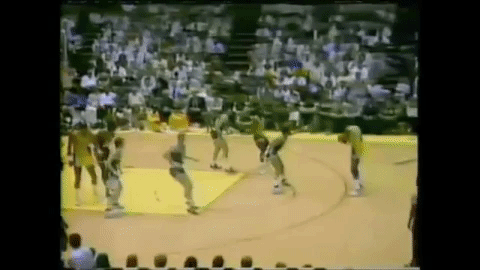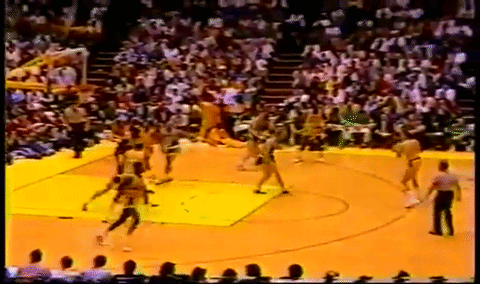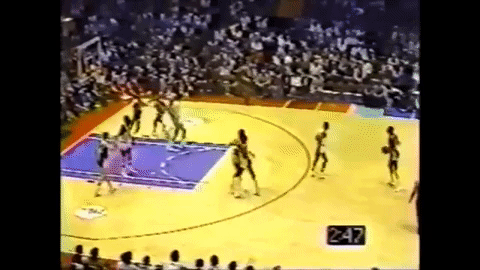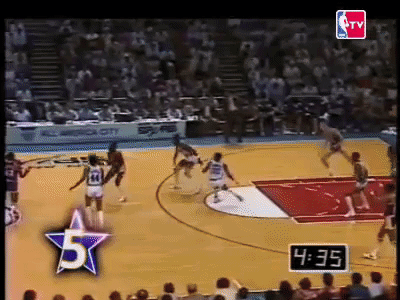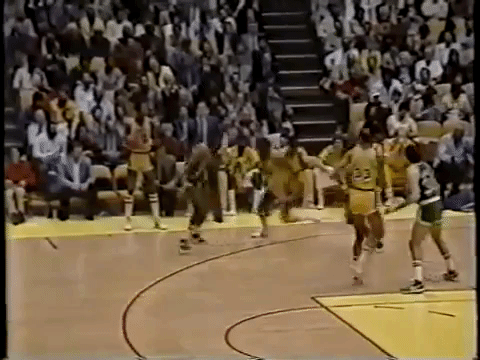 20…AND DOMINATING WITH THE PASS
Magic's most famous game came in his first Finals, when he went for 42 points, 15 rebounds and seven assists against the Sixers in Game 6, leading the Lakers to the title, despite missing Kareem Abdul-Jabbar. He was 20 years old at the time. But despite his big scoring numbers, he still showed how his passing set everything up, for his own offense and his teammates'.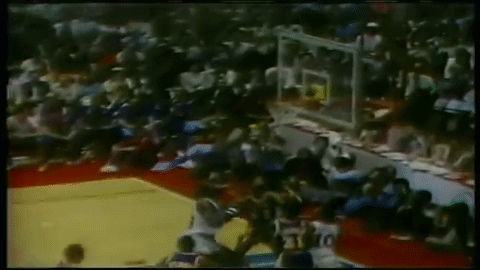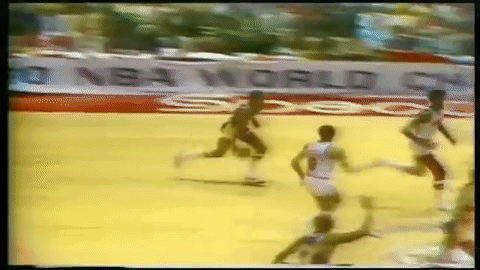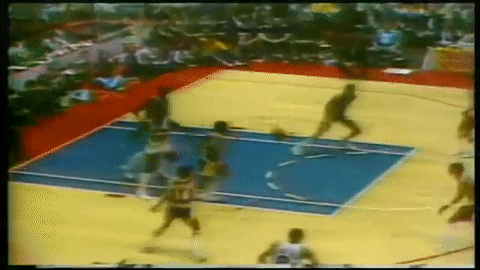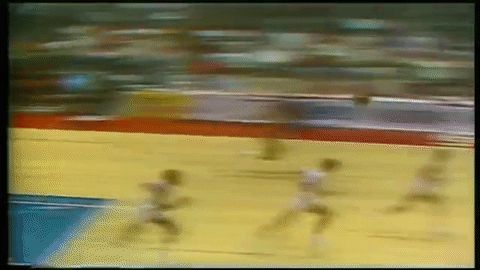 LEADING THE RECEIVER
Like a quarterback throwing the ball where a wide receiver will end up, Magic threw, or tipped, passes seemingly to no one — except a teammate was mere steps away waiting to collect.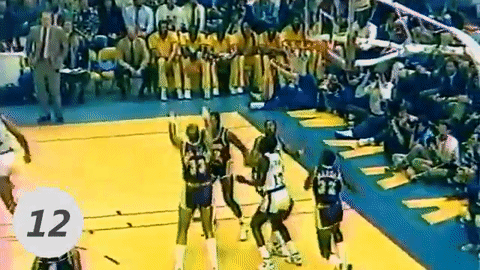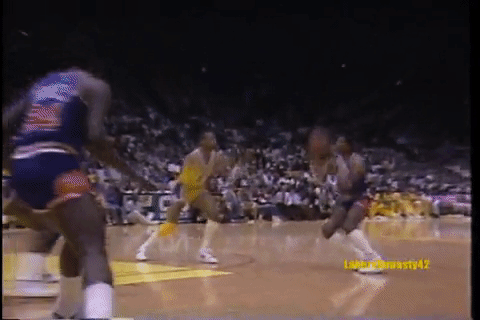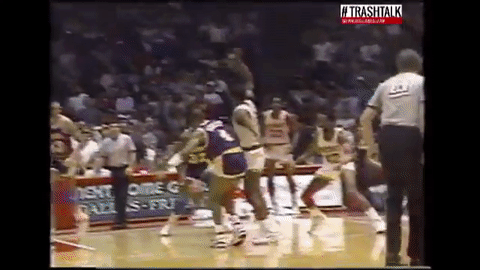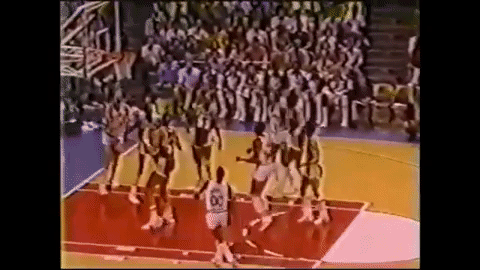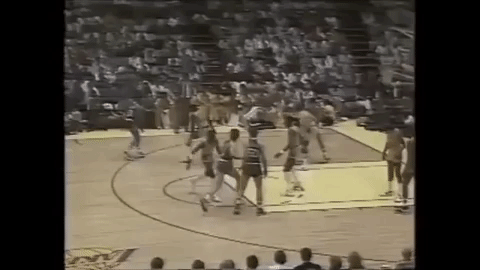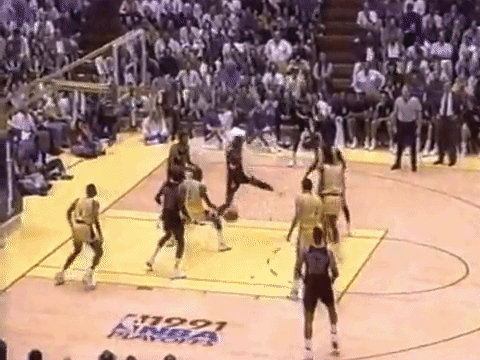 THE…I DON'T KNOW WHAT HAPPENED HERE
Title says it all.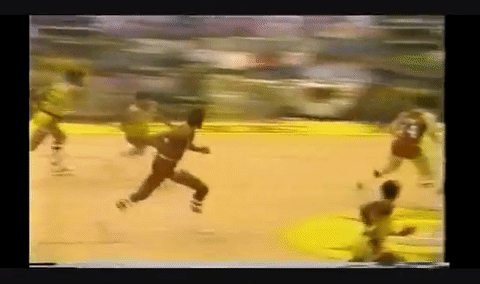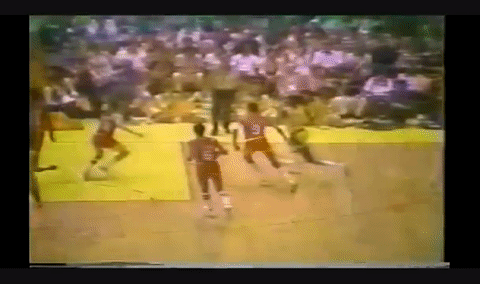 THE TRUE NO-LOOK
Magic's got several no-look assists in this collection, but this one below has always been a favorite. So many no-look passes, even in the NBA, are basically fake. The guy's glancing at his teammate, or he throws it and then looks away. Not Magic. Watch when he lasts puts eyes on teammate A.C. Green sprinting down the middle of the court. Magic's down on the Pistons' end of the court, pretty much near the 3-point line. He takes three more dribbles, crosses half court, never takes another look at Green…and delivers a strike through the defense for a layup.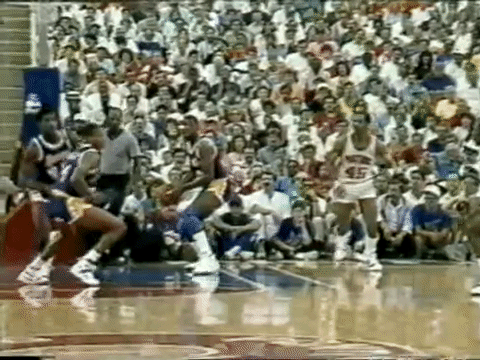 THEY SCORE…LAKERS SCORE
A common theme throughout the 1980s: A Lakers opponent scored, only to give up two points three seconds later as Magic found a teammate for an easy, and surely demoralizing basket.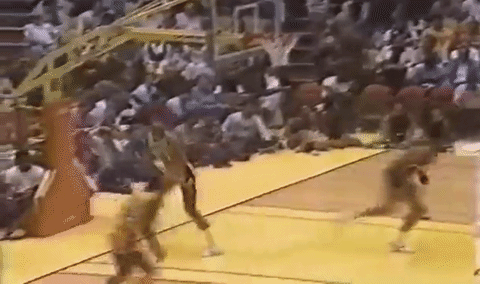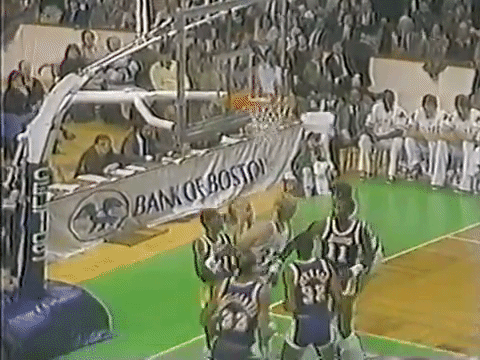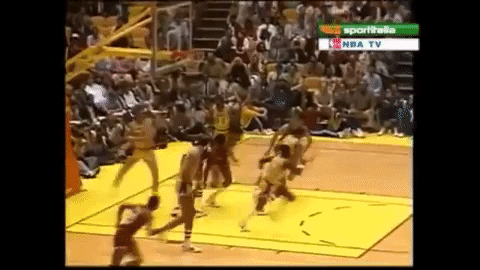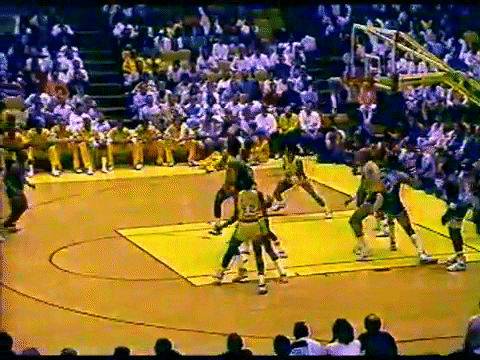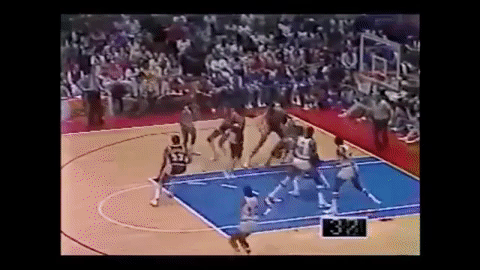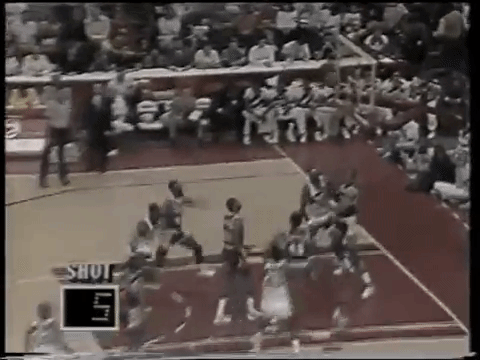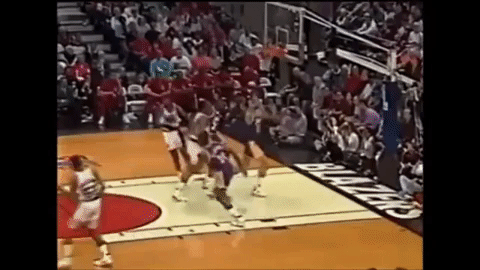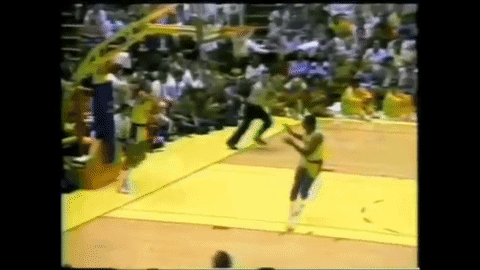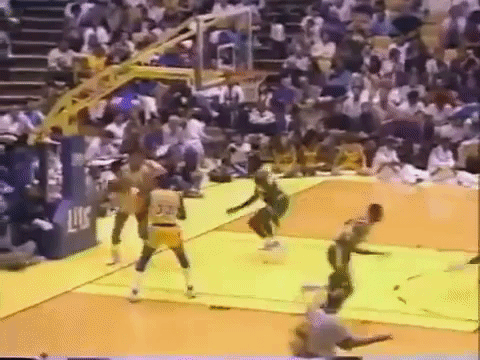 ALLEY-OOPS
Little-known fact. The Lakers actually founded Lob City. More specifically, it was Magic's domain. His favorite partner was Michael Cooper, who, especially early in his career, soared for Magic's passes. The two hooked up so often the memorable, albeit not totally creative name, Coop-a-Loop was born. "That was a unique thing," Cooper tells me, "because I wanted to be a passer too and Magic was like, 'Coop, you gotta shoot.' He had done that with Greg Kelser at Michigan State, but I had to do it more off the run, it took a little bit of different timing." But the timing between the two was usually perfect. "Magic would say, 'Coop, we've gotta find a way for you to score other than shooting jumpers." They did.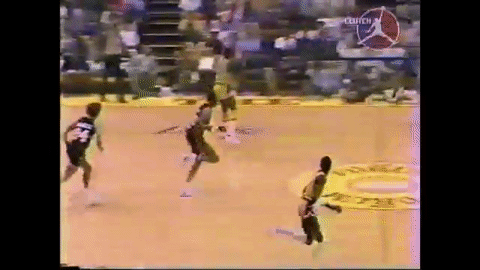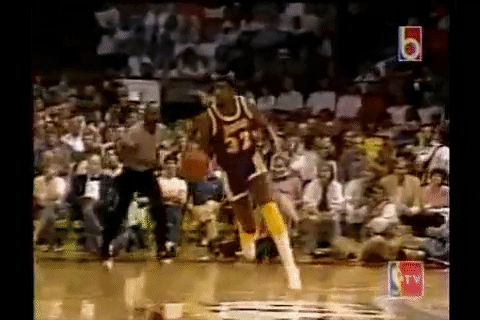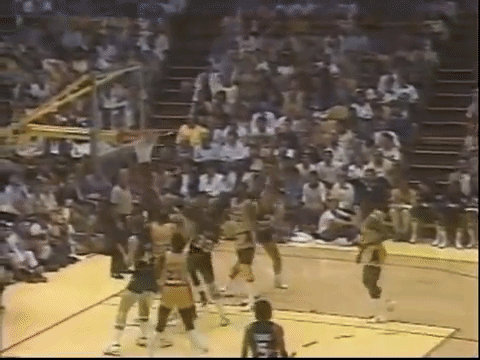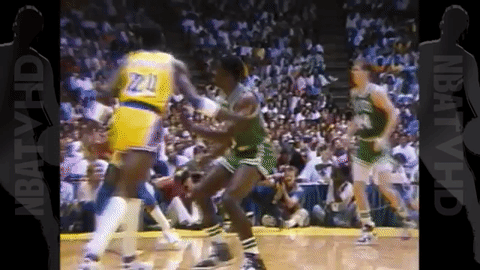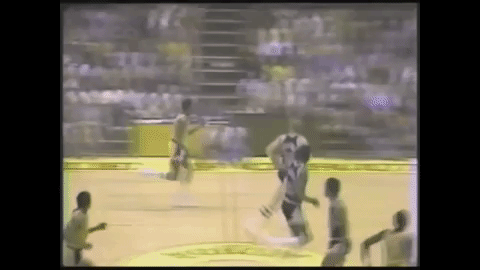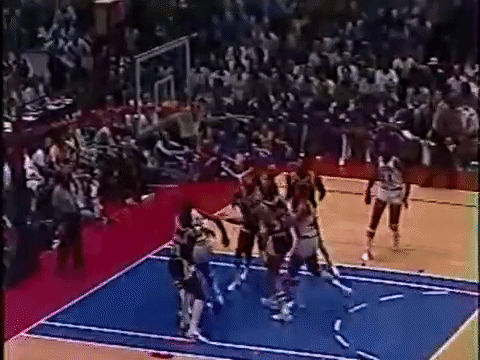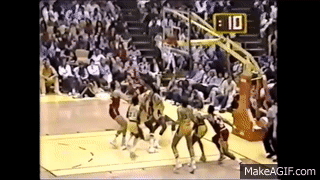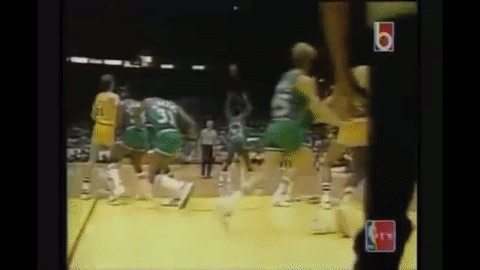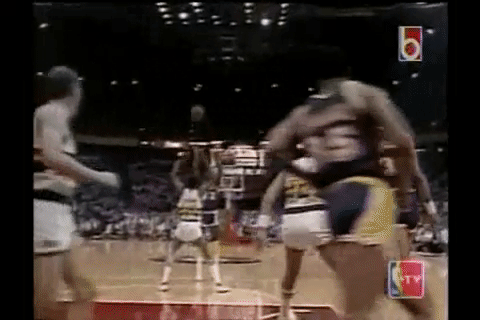 Of course Magic didn't discriminate and offered pinpoint lobs to Byron Scott, Worthy, Orlando Woolridge, Kareem, Sam Perkins, Elden Campbell….anyone who could jump, catch and dunk in one motion.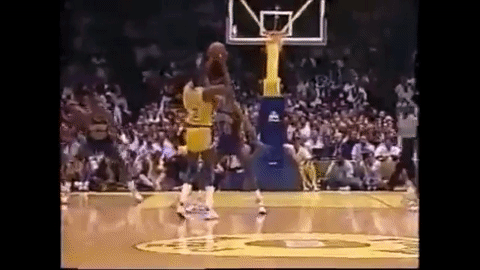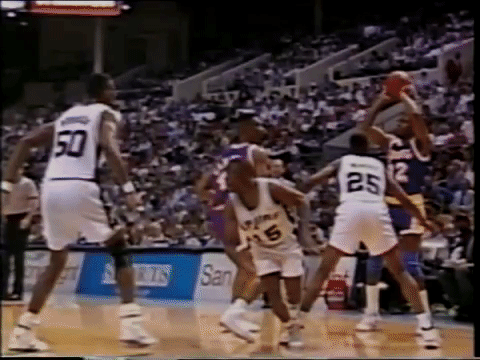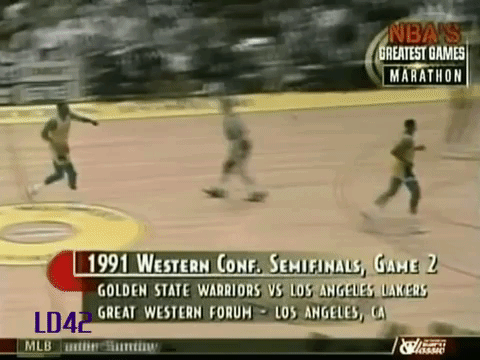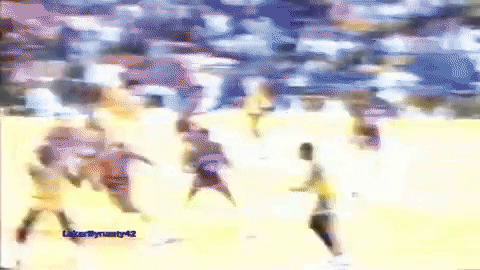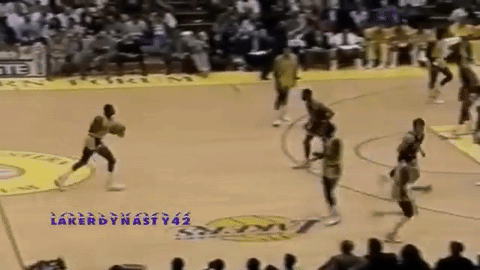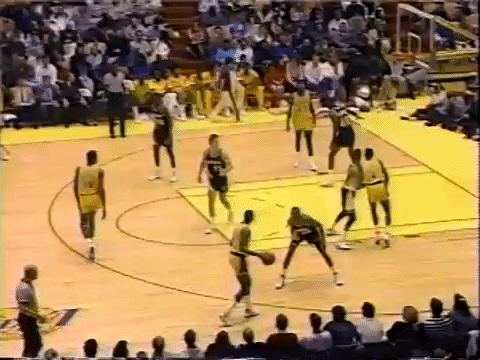 ONE STEP AHEAD, OR THE HOT POTATO PASSES
Going back to his high school days, Magic specialized in firing the ball a split second after it hit his hands. He made the pass that the teammate who gave him the ball probably should have made and would have made if he owned Magic's vision and wrist strength. But they didn't. No one did.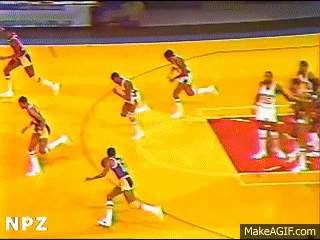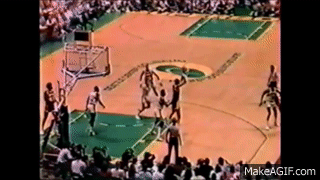 I especially like this one below because it's a near-repeat of the pass Magic made a decade earlier, to Greg Kelser on the break, in the victory over Notre Dame. Magic was never afraid to break out the classics.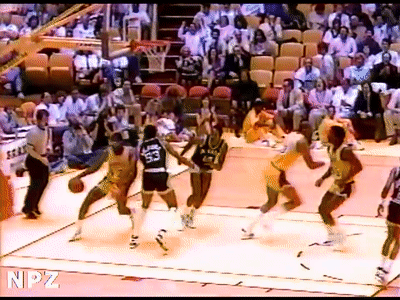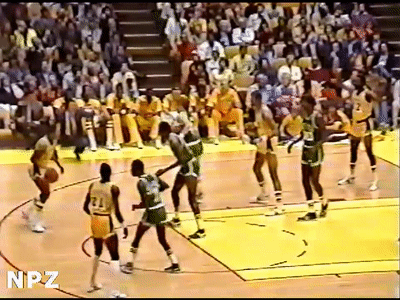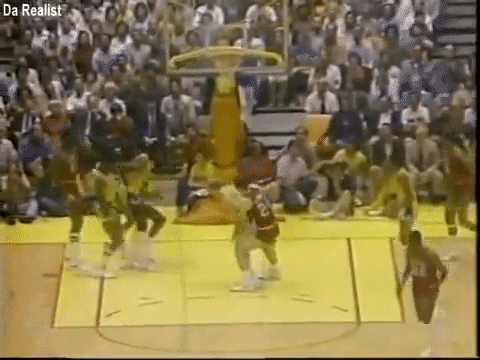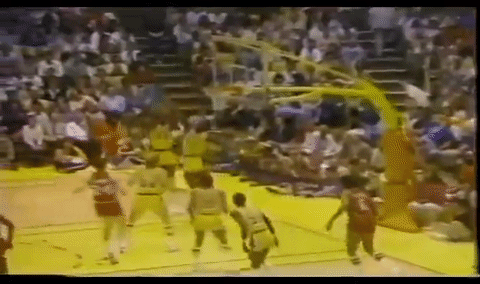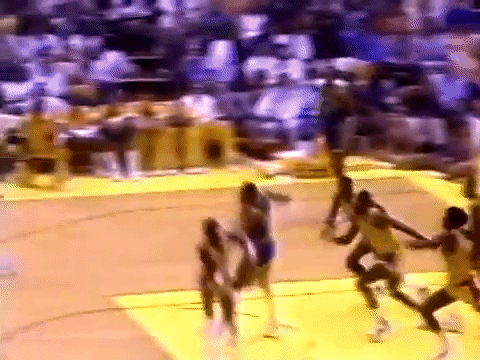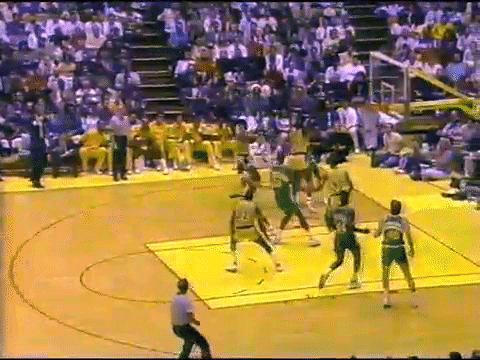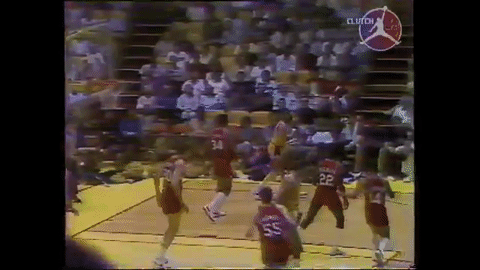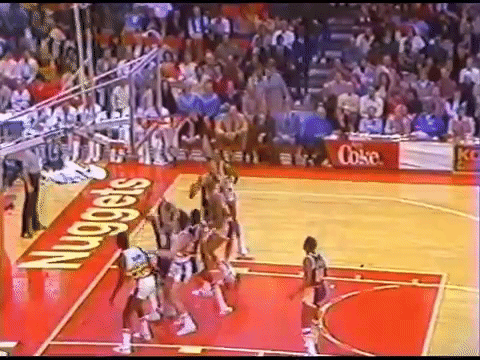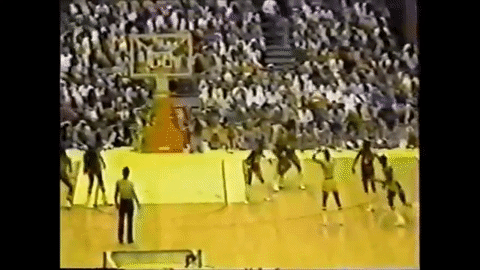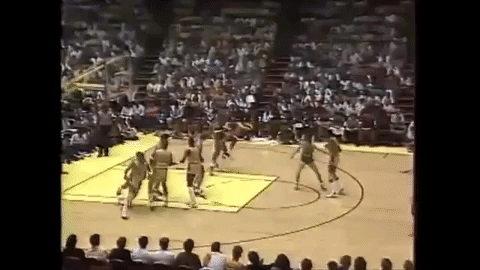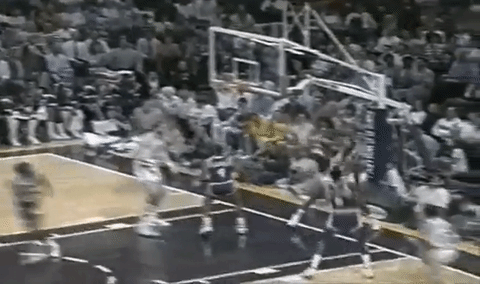 Many times for Magic, grabbing an offensive rebound was really nothing more than the first part of a gorgeous assist. Even as the ball's coming off the rim, Magic's sizing up the defenders and teammates, ready to strike a second after collecting the board.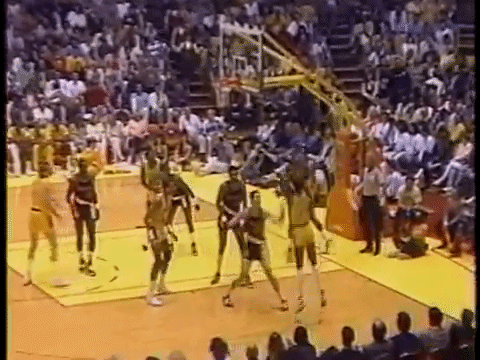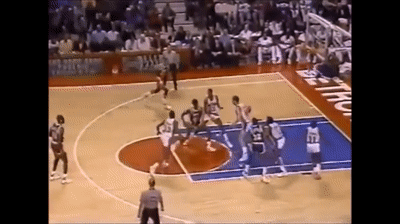 Watch all of these and remember what his high school coach Fox said, about Magic learning at a young age how to snap the wrists a second after collecting the ball. Magic's passing instincts were unmatched, but through practice and repetition he nurtured every gift given to him by nature.
THE FAST BREAK
Finally, Magic at his greatest. Leading the break, in the middle or on the wing. Or starting it with a three-quarters court pass. The fast break was Showtime's ultimate weapon, and Magic its general. His creativity and fundamentals were always on display. Teammates dunked, opponents cowered, and fans cheered.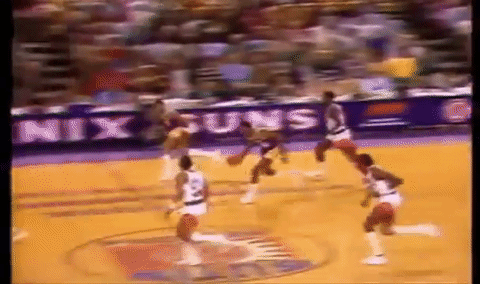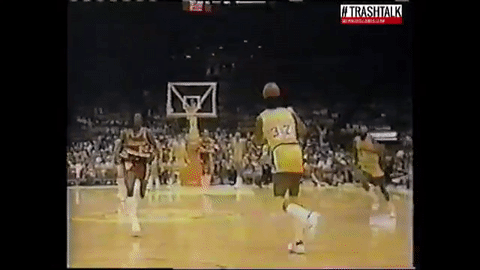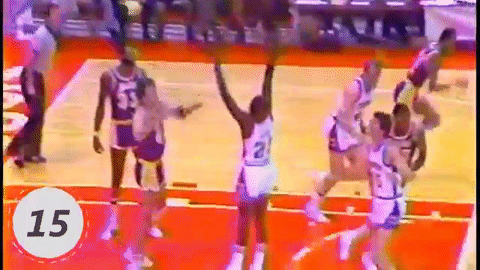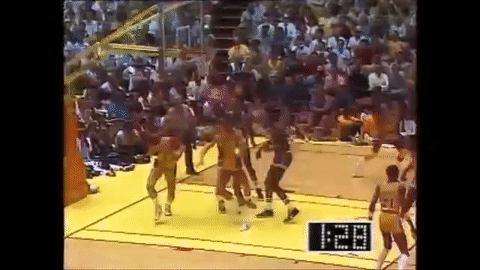 People remember Worthy, Nixon, Cooper and Scott filling the lane for the Lakers, but on a surprising number of breaks, Kareem finished it off. It's a tribute to Kareem's fitness — he was 32 when Magic came into the league and 42 by the end of their time together — but it's also a credit to Magic. Even Kareem, dominant on the block, got out and grabbed a spot on the wing if Magic was in the middle.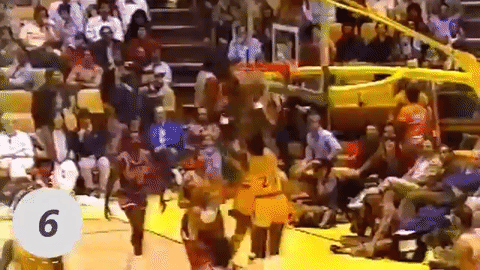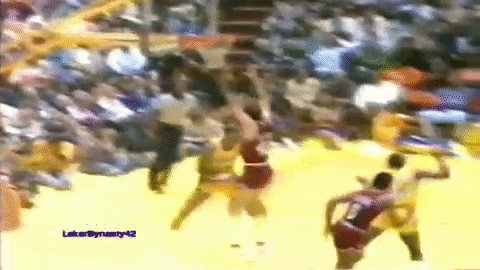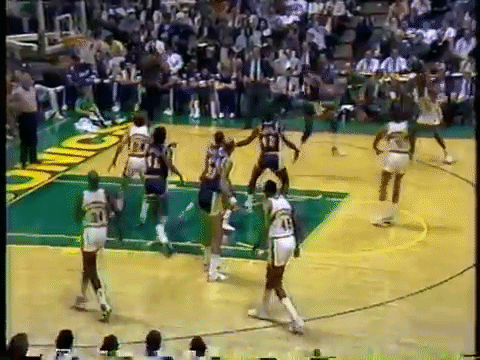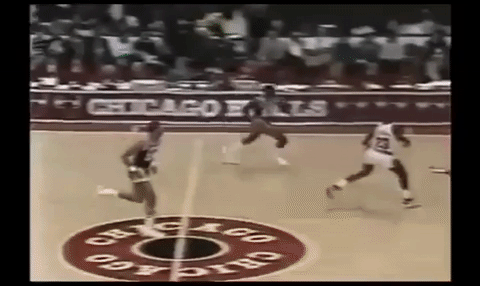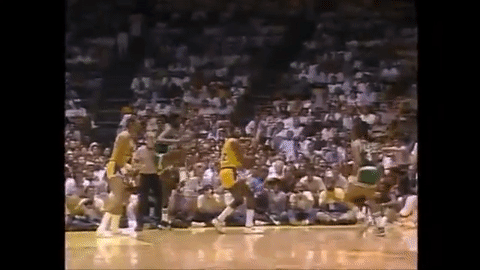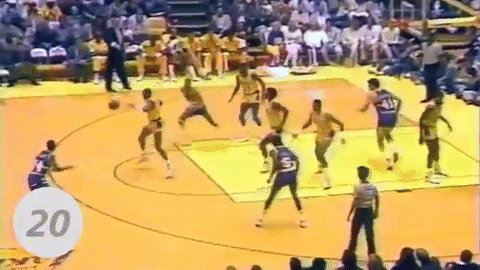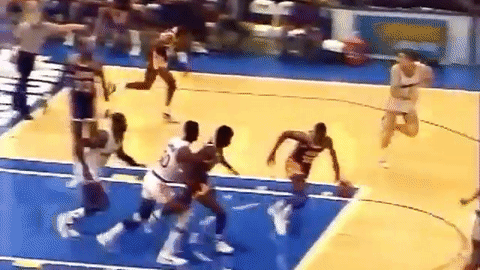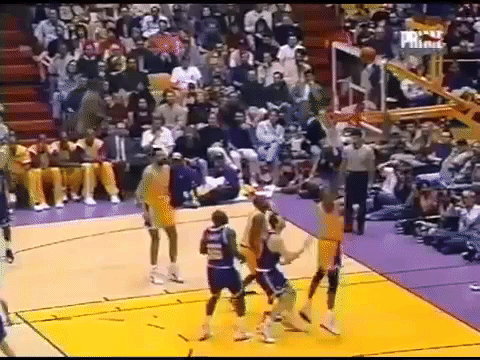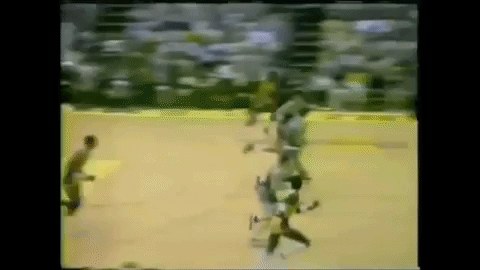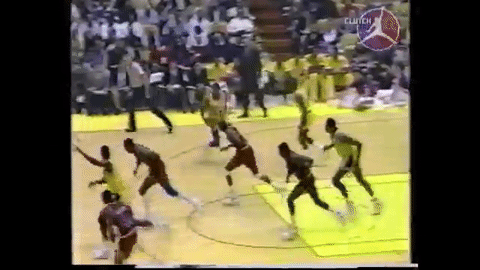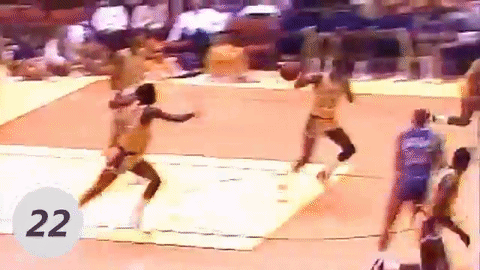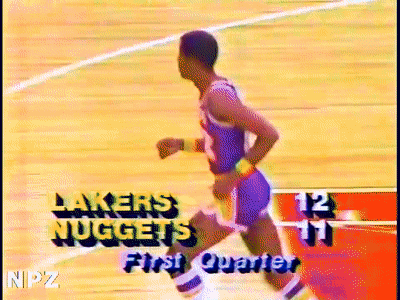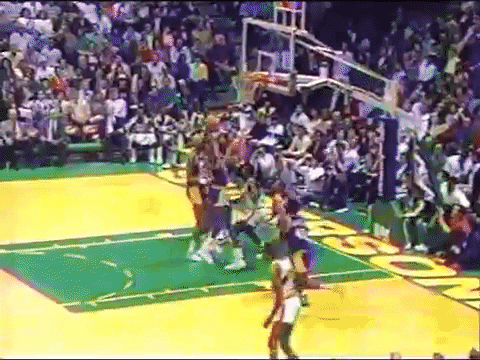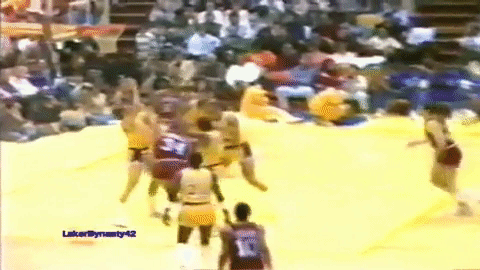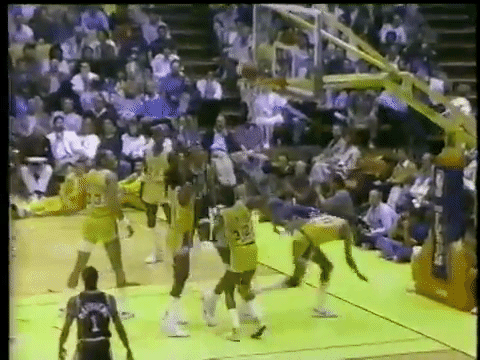 I like this second look at the assist against the Spurs because you can see what Magic's truly seeing — which isn't Michael Cooper. But somehow, out of the corner of his eye, Magic obviously spotted Cooper or simply knew his fleet-footed teammate would be there when he casually dropped a pass off, just as the defender was about to leave his feet to try and swat a Magic layup.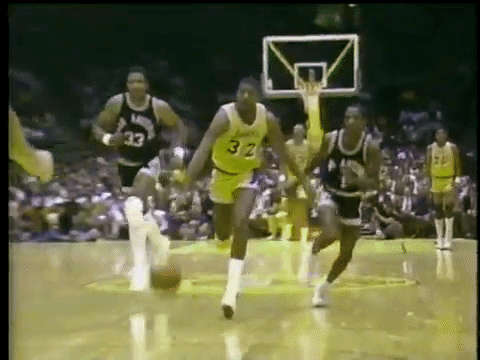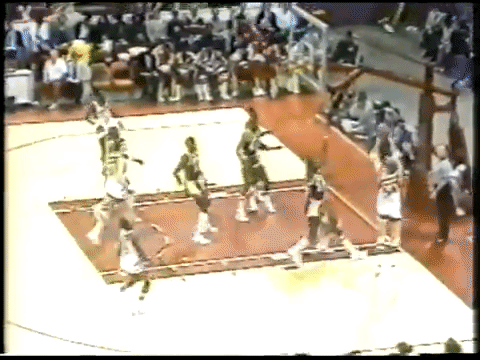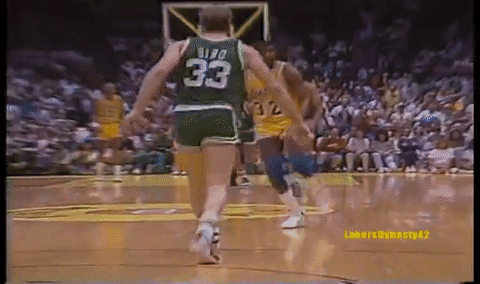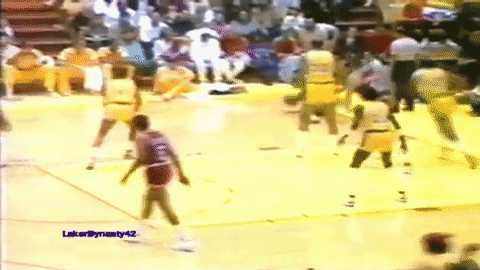 Magic didn't always have to go from one end of the court to the other with the ball. Below he's more of a secondary option on the break, collecting the ball as he nears the 3-point line before driving and faking out four defenders.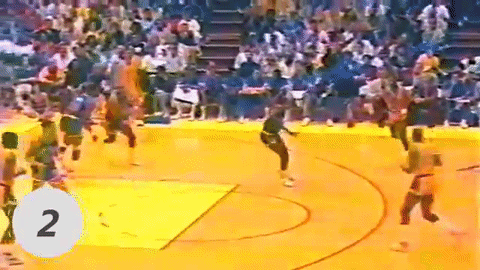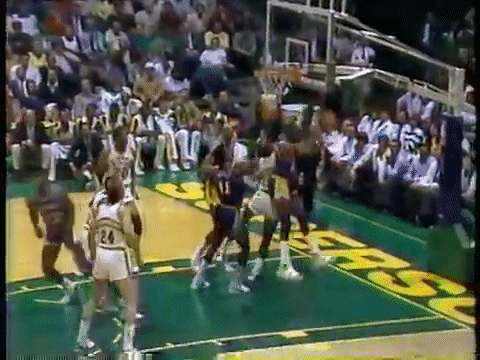 The pass below came against the Pistons in Game 7 of the 1988 Finals. In the third quarter the Lakers rallied from a halftime deficit and put on what was final the display of Showtime in its purest form. Magic still played three more years and the Lakers still had plenty of fast breaks, but in that third quarter, the break was relentless. I love this play and this angle because you see a fast break develop and then conclude, with Magic calling for the ball — "Go!" — from Worthy, who obliges and then fills the lane perfectly.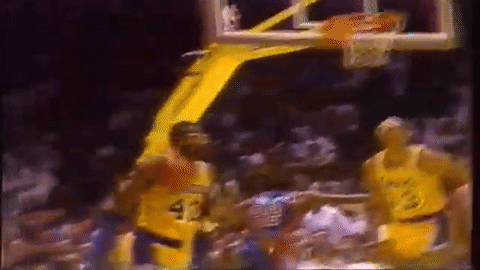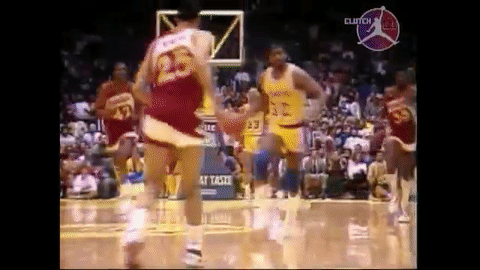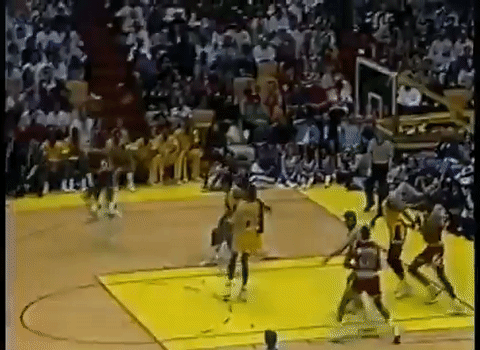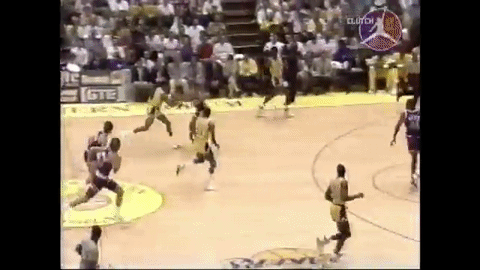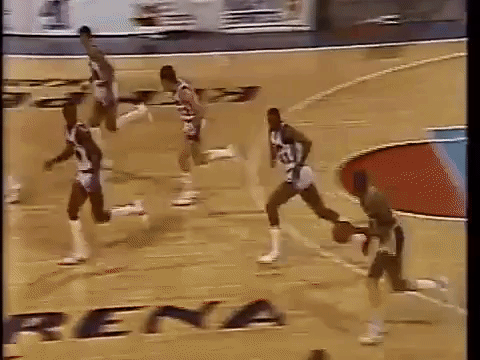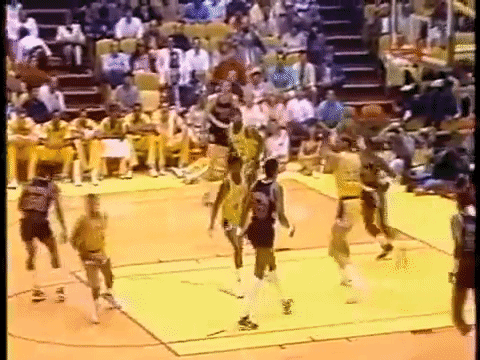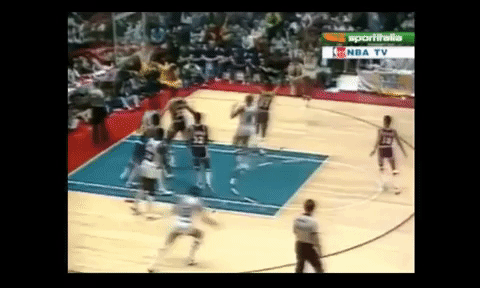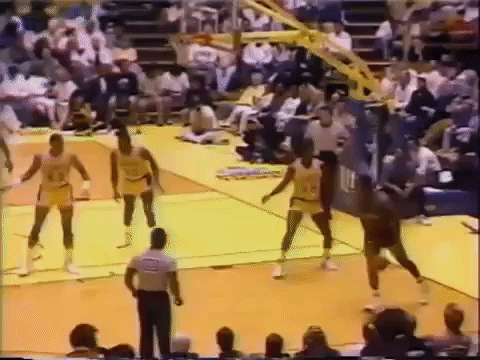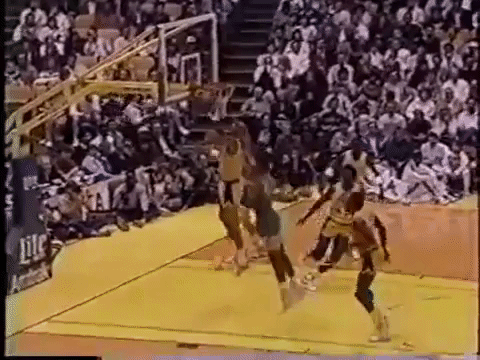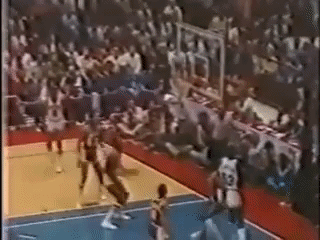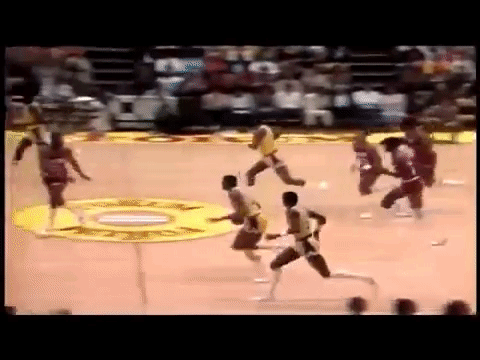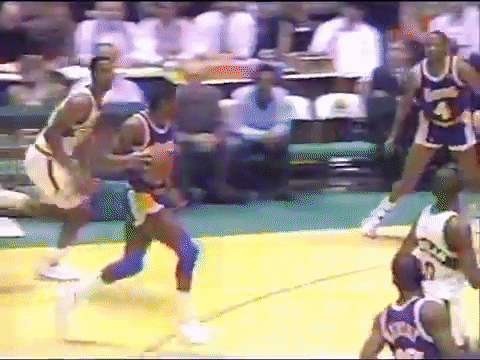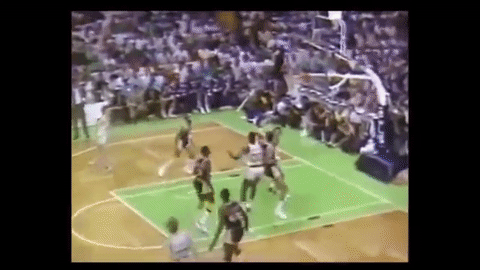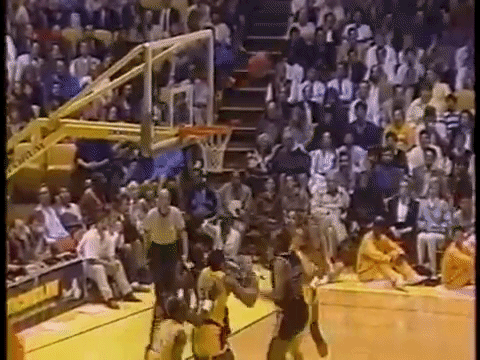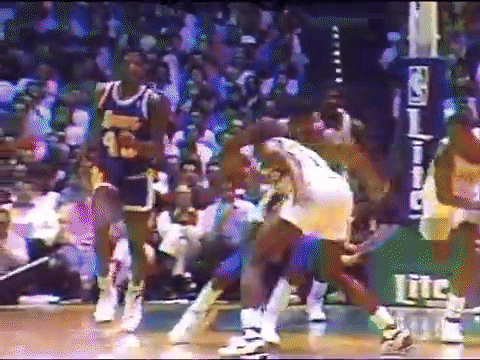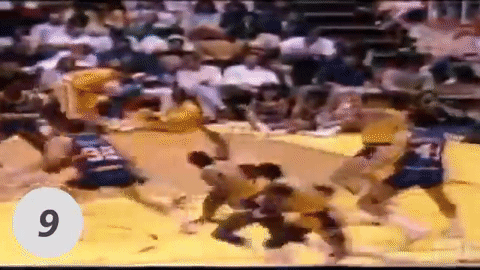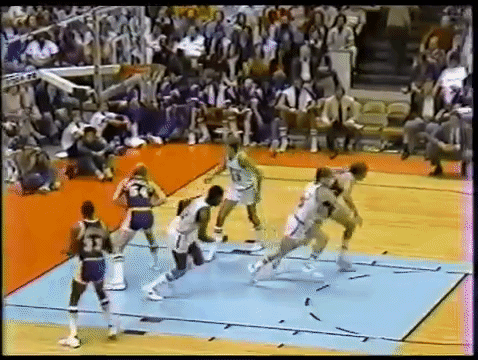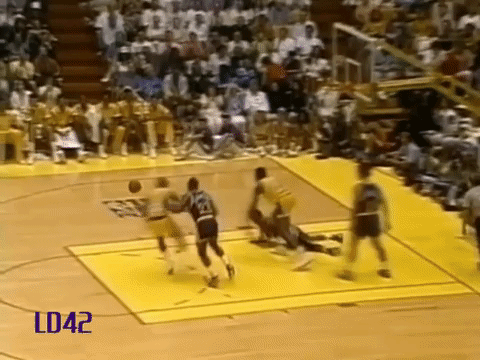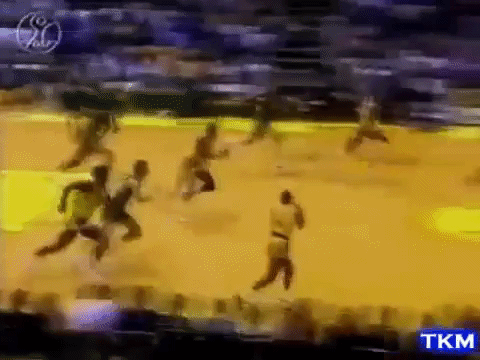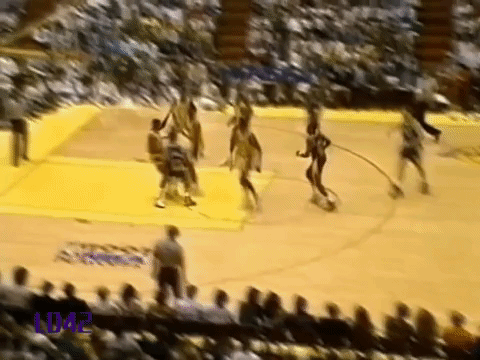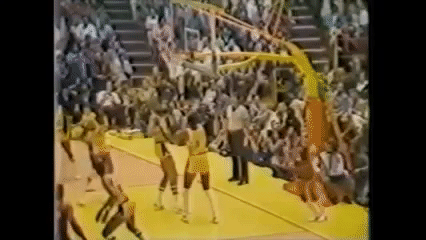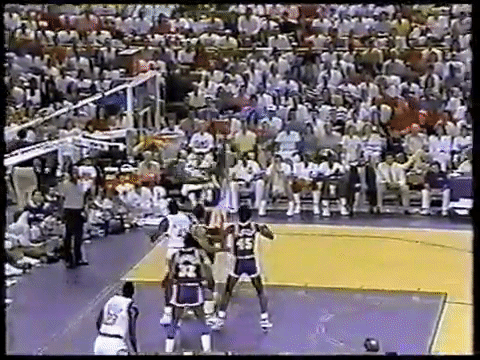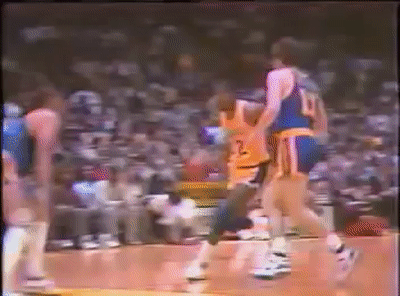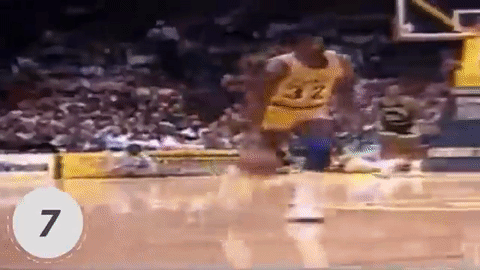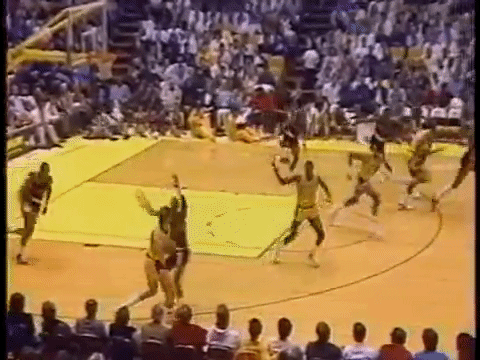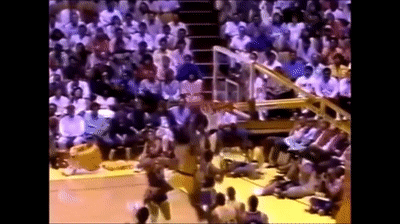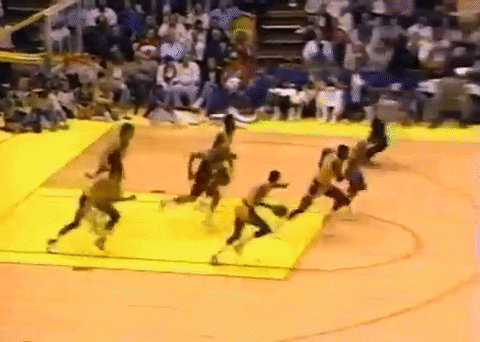 THE END
In April 1996, I watched Magic in person for the second time in my life. I first saw him live in an exhibition game played in Minnesota in 1984, before the NBA had returned to the state. Twelve years later, Magic was nearing the end of his second comeback during that 1996 game in Minnesota against the Timberwolves. Showtime had ended five years earlier. Worthy, Cooper and all the rest were long gone, and Magic had packed on the pounds while serving more as a power forward than a guard. During the game, a young Kevin Garnett guarded an old Magic, the future superstar taking on the faded one.
And yet, several times that night, I rose out of my seat after one of his incredible looks, feeling the same type of amazement Fred Stabley experienced when he watched a high school sophomore and give him one of the greatest nicknames in sports. I expressed the same audible disbelief that Dick Enberg and Al McGuire uttered while watching Magic in the NCAA tournament 17 years earlier.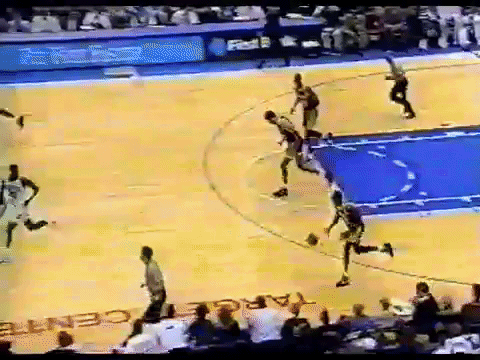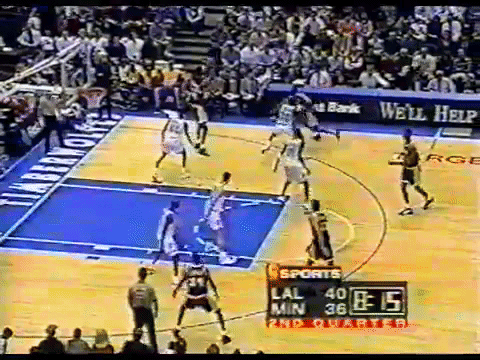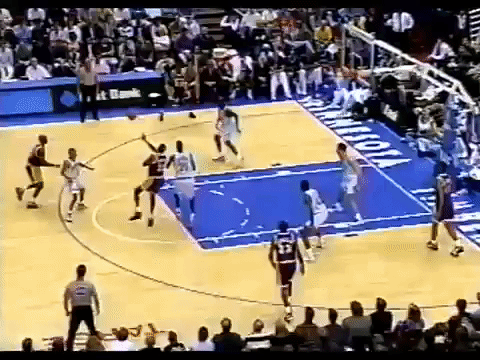 It was a meaningless regular season game and yet it still felt like an event because of Magic's skills. He handed out 11 assists, right on his career average. A month later his playing career ended for good. Although I had the time of my life, I didn't get to see Magic Johnson in his prime that night. I had to settle for seeing the best passer in basketball history.